Average Cost of Buying a Great Dane (With 21 Examples)

Throughout history, the Great Dane has gone from hunter to royalty to an everyday member of families around the world. When purchasing a Great Dane, there is an abundance of options to choose from.
Great Danes purchased from breeders, neighbors, and adoption centers can cost anywhere between $100-$5,000! The price will always be based on the age, seller, and health of the animal. The quality of a breed can determine future medical expenses.
The cost of a Great Dane can be unpredictable. The initial price of the dog may determine how much you will spend on the animal in medical bills or tests. This list expands on how much a Great Dane will cost based on age, location, seller, and breed quality.
Initial Cost
Buying a Great Dane is often quite unpredictable.
There are numerous options when it comes to buying a Great Dane. Three of the most popular options include:
Buying from a breeder
Adopting from an animal shelter
Private Adoption
When purchasing a Great Dane from a breeder, you are faced with a ton of options nationwide. The Great Dane Club of America has a directory of 88 registered breeders.
This does not include unregistered breeders throughout the nation.
Many breeders have healthy, strong Great Dane puppies costing around $1,000.
The average cost of a Great Dane from official breeders in the United States ranges between $600 and $3,000.
The price of these dogs varies depending on their health, genetics, and age. Many people purchasing a Great Dane are looking for a new family member to play and live with.
Many breeders have healthy, strong puppies costing around $1,000-$2,000.
The cost of adopting a Great Dane from an animal shelter often varies depending on the shelter itself. Adoption centers are businesses, and as unfortunate as it is to admit, money is their highest priority so they can stay in business!
The average adoption fee in the United States is between about $250 but can vary greatly.
Although, this does not mean they are disingenuous. While occasionally adoption centers will give dogs out for free, adoption fees are most often needed in order to pay for any medical costs of the adoption center.
Medical costs paid for by adoption centers might include vaccinations, spay/neuter (if needed), and any health tests needed to ensure the dog is healthy enough to pass onto a new owner.
It is common for animal shelters to include exclusive deals with the adoption fee for a dog such as:
Free Medication
ID Tag
Pet Food
Other tests (genetics)
Pet Insurance
Follow up Health Exams
Sometimes, shelters will have an initial adoption fee in addition to the costs of health tests or treatments.
Private adoptions are the third most popular way to adopt or buy a dog. These occur when one adopts or buys a pet privately from a friend or fellow member of the community.
The cost of a privately adopted dog is truly unpredictable. Depending on a person's familiarity with dog breeding, some might choose to give their dog or litter away while others might decide to sell them at the most profitable price.
In addition to unforeseeable prices, private adoption fees are difficult to determine because the original owner may or may not have already had health tests or vaccinations done.
The necessary health tests needed for Great Danes often includes heart and eye tests, hip, elbow, and thyroid tests.
Some choose to only get the heart and eyes tested (which are often under $50) because it covers most health issues the dog faces.
Other health tests, such as thyroid or hip examinations, can cost hundreds of dollars.
Dogs can be expensive! Although, a lot of these prices are just averages. Below, I've listed out 21 specific examples of the cost to buy a Great Dane.
The examples listed are current to the time of writing this article and are subject to change.
Adoption
Adopting a dog can mean numerous things. Animal shelters bring in dogs of all different backgrounds.
A shelter might have stray dogs that have been rescued, old dogs dropped off by their owners, puppies or litters dropped off by their owners or even dogs whose owner had passed away.
Because of these unpredictable backgrounds, dogs from shelters may need to be retrained, socialized, tested, medicated, etc.
When considering adopting a dog from an animal shelter, it is important to consider the personality and health needs of the dog.
It is also very difficult to determine if a Great Dane is available at the shelter you are looking at. You might need to call around to a couple of shelters in your community to find a certain breed.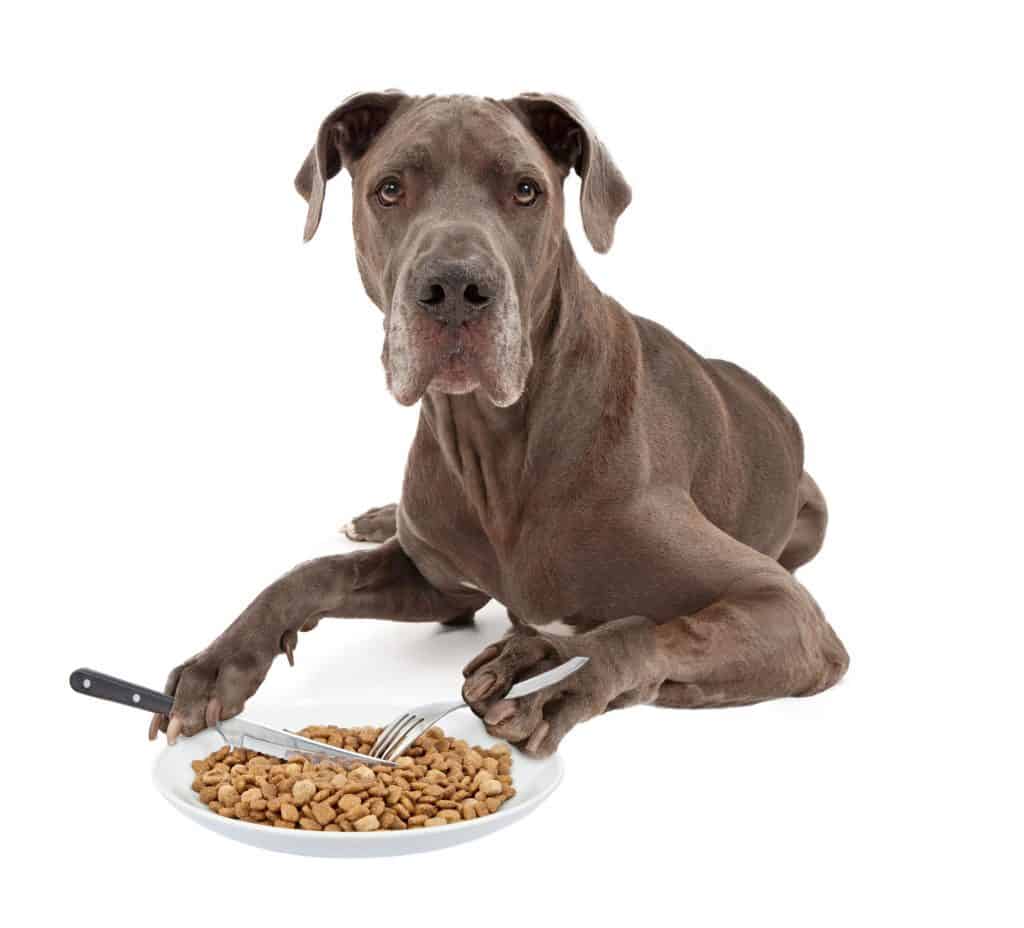 1. Devore Animal Shelter (San Bernardino, CA)
I called and spoke with the Devore Animal Shelter located in San Bernardino, California.
This shelter offers dog adoptions between $80-$100.
The fee includes the cost of any required health tests, a spay or neuter if needed, and 2 vaccinations required by the state.
This animal shelter located in Millcreek, Utah provides dogs for adoption at a price depending on the age of the animal.
Dogs younger than 4 months have a $300 adoption fee. Dogs between 4 and 8 months of age have a $200 adoption fee. Lastly, dogs older than 8 months have a $175 adoption fee.
This fee includes any health tests and vaccinations required by the state as well as a spay or neuter if needed.
This animal shelter and adoption center in Michigan has an adoption program and an animal rescue program. They offer dogs of all breeds, backgrounds, and ages.
The cost of adopting a dog from this shelter is normally $136.50.
All of their adoptable dogs are spayed or neutered and micro-chipped.
As you can see, the cost of adopting a dog from a shelter can vary greatly. Is this the right choice for you? It's definitely worth looking into!
Online
First of all, this article is describing the possible cost of a Great Dane in any scenario. I do not condone or encourage puppy mills, online stores, or any inhumane treatment of dogs!
With that being said, buying dogs online, while frowned upon, is an option when it comes to purchasing dogs.
Online stores advertising the sale of dogs from breeders or individuals are difficult to determine genuine or not.
Among the breeding community, online animal sales and shipment of animals are considered distasteful and inhumane. Buying from an online store without verifiable certification risks buying from a puppy mill or inhumanely bred Great Dane!
4. Puppy Mills
A puppy mill is defined as a breeder or breeders who consider financial profit above the well being of the dogs they are breeding.
In puppy mills, female dogs are often bred for their entire lives, every time they are in heat (the cycle a female dog must go through in order to get pregnant) until they are physically incapable of reproduction.
Other characteristics associated with puppy mills include:
Dogs locked in cages 24/7
No outside contact
Unsanitary facilities
Unlicensed business
lack of veterinary care
Often, puppies purchased from puppy mills are bought by individuals through word of mouth or by pet stores at untold prices. Prices could range from $300 – $600 or more.
Sadly, this is the truth for many pet stores out there. If you are buying a Great Dane from a pet store, consider any reviews of the store and any background information they have on the dog.
5. Craigslist (Los Angeles, CA)
Craigslist is a controversial place to adopt a dog.
In some cases the dogs are very well taken care of, the owners just don't have the ability to take care of them anymore. In other cases, people might have a litter of puppies and sell them as they come at random prices.
While searching Craigslist ads in Los Angeles, California, I came across an ad for a Great Dane and Australian Dingo mix. This came as quite a shock to me, Australian Dingos are not very common to come by!
In this case, the puppies have not been tested or treated, but are being sold for a donation or "rehoming fee" of $150.
6. Craigslist (Los Angeles, CA)
Many puppies one comes across on craigslist are sold from a whole litter. Occasionally, for whatever reason (financial, health, etc.), people may not be able to care for their dog anymore, and have no other choice than to attempt to find a better home.
One ad on craigslist in Los Angeles, CA offered a 2-year-old Great Dane. In this case, the seller asked for $500, or $700 with AKC papers.
The American Kennel Club offers certification for a dog using genetic tests for the dog's lineage and health risks.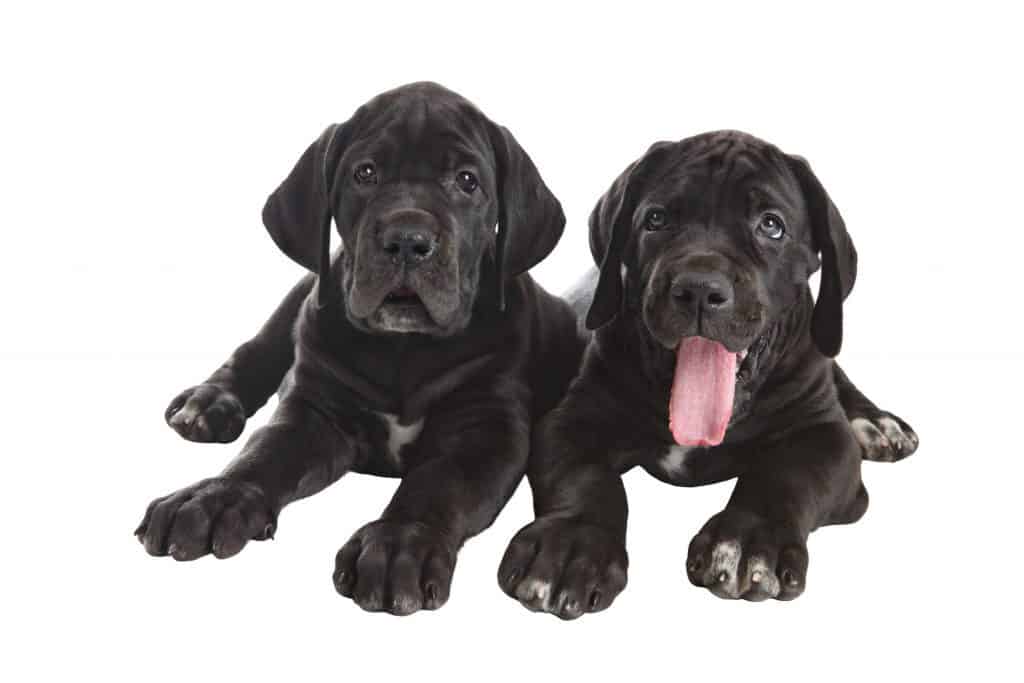 7. Craigslist (Oklahoma City, OK)
While scouring Craigslist all over the states, I came across a Great Dane being sold in Oklahoma City, Oklahoma.
This 8-month-old female Great Dane was AKC registered and was being sold for $250.
This is just one example of the randomness of shopping online! It is possible, even probable that the owner cares for this dog greatly, but has to depart from her for reasons unknown.
A dog that is registered with the American Kennel Club is a good sign, but if this Great Dane was purchased, it would be safe to consider further health testing.
You can't be too careful!
Puppy Find is a website listing dogs for sale from owners and breeders throughout the nation. Many of the listings I came across were puppies from private owners, often between 6-12 weeks old.
Three puppies here about were 7, 8, and 6 weeks old, and were all being sold for $1500.
Buying from a private owner over a website can also change the cost of your Great Dane. Some puppies might be vaccinated, neutered, or untouched, which will cost you more in medical expenses later.
9. Puppy Find
Of all the listings of Great Danes on Puppy Find, there was one Great Dane that is 7 months old.
This Great Dane was being sold for $1500.
This adolescent Dane was registered and came with up to date vaccinations, a health guarantee, and a pedigree stating the health and condition of the dog.
10. Puppy Find
Puppy Find advertises many Great Danes for sale across the nation at whatever price the seller sets. I came across an ad for another Great Dane who was just 4 months old.
This pup was being sold for $450.
The ad explained that the dog had been vaccinated, registered, and health tested/guaranteed. At such a small price, a buyer should be cautious in examining the dog and ideally should have the dog examined again to ensure its health and well being.
Next Day Pets offers dogs from breeders throughout the country. It does not clearly state how the breeders are certified, only that they are reputable. There are numerous ads for Great Dane puppies for sale.
One ad described a Great Dane just two weeks old for $2000.
This pup is sold by a breeder who has the puppy micro-chipped, declawed, vaccinated and is sold with a health guarantee of up to 3 years.
12. Next Day Pets
While enjoying all the photos of Great Dane puppies, I came across an ad stating "premium" Great Dane Puppies. These were Blue Mantle Great Dane puppies, which have a slightly blue tint to their fur.
These Blue Mantle Great Dane puppies are 4 weeks old and are being sold for $1800, with a $450 shipping charge.
This Great Dane comes with a 5-year health guarantee, vaccinations, a complete physical, and a crate if shipped.
13. Next Day Pets
I found another ad labeled premium on Next Day Pets describing a Great Dane of either Fawn or Brindle fur color.
This dog is 38 weeks old (almost 10 months), and is being sold for $3500.
These particular fur colors are somewhat rare to come by among Great Dane breeders. In addition, these dogs' ears are cropped, which can often cost an extra $500 when purchasing a Great Dane.
Buying in Person
Buying a dog in person from a registered breeder is the most reliable and safe way to ensure the health and overall well being of your future best friend!
The Great Dane Club of America is a club of Great Dane owners and breeders located all over the nation!
At the time this article is being written, the GDCA breeder directory lists 88 breeders across 27 states! Prices of dogs from ethical breeders, especially Great Danes, can at times be a bit higher but will guarantee the health and humane treatment of their Great Danes.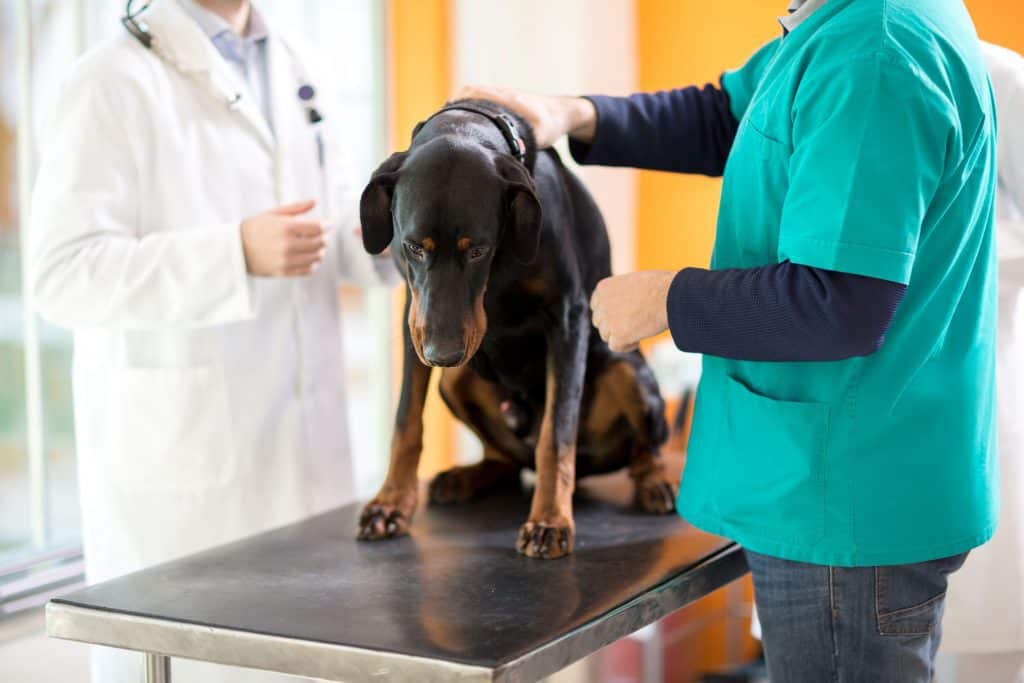 14. Breeder, California (Puppy)
Jolene, from JGD Great Danes, informed me about the cost of Great Danes in California in comparison to other states.
Health testing in California can be fairly costly for breeders. Because of this, young Great Danes are most often bred and sold in California for anywhere between $2,500 and $3,000.
Jolene explained that an ideal Great Dane puppy would be sold for about $3,500 so long as extensive health tests and family history research is done.
15. Breeder, California (Adult)
Jolene explained that she does not normally sell a puppy after 8 or 10 weeks. At this age, the Great Danes become to mature and become more familiar with their environments.
If a Great Dane older than 10 months is sold, Jolene stated that would add at least $500 to the price of the Great Dane, making the total average $4,000.
Although, the highest quality and healthiest Great Danes have been known to sell for up to $5,000 as puppies!
16. Breeder, Texas (puppy)
I spoke shortly with Sonya, a breeder from Southern Star Great Danes in Jasper, Texas about the cost of Great Danes in the area.
Sonya explained to me that Great Dane puppies are often sold for between $1,600 and $2,000.
Health testing and ear cropping in states such as Texas, Alabama, or Illinois can tend to be much more affordable.
Ear cropping, a medical procedure involving the removal of part of a dog's ears, can often cost up to $1,200 in California. In Texas, the same procedure often costs between $325-$500.
17. Breeder, Texas (Adult)
Breeders care about their dogs! Many breeders love to keep their dogs if they are not sold within the first year.
Sonya described that most often, the price of a Great Dane is not affected with age until the dog's physical capability is affected. If a Great Dane gets to this age, she prefers to give him/her to an owner that will appreciate the dog.
18. Breeder, Colorado (Puppy)
Sam Rose, of Rose Great Danes in Durango, Colorado, was kind enough to inform me of their breeds and experiences selling different fur colors all over the United States.
Sam said that they breed 5 different colors including Harlequins, Mantles, Blacks, Merles, and Mantle Marked Merles. The color of a Great Dane affects the price greatly.
An 8 week old Mantle from Rose Great Danes can cost as little as $2,000, while a Harlequin can be sold for up to $5,000!
19. Breeder, Colorado (Adult)
Rose Great Danes has provided dogs for buyers from more than 10 different states throughout the nation!
Sam also explained that medical expenses tend to be a bit higher in Colorado than most states. Normal Great Dane health testing (hips, eyes, thyroid, and heart) can cost as much as $1,000!
Buyers most often contact Rose Great Danes looking for puppies around 8 weeks of age.
Adult Great Danes often cost the same as a puppy (between $2,000 – $5,000 depending on color) unless trained for shows, which can raise the price.
20. Backyard Breeder
Some breeders are known to breed dogs without proper certification, tests, vaccinations, etc. These breeders are referred to as "Backyard Breeders". While on craigslist, I came across an ad selling a litter explaining their breeding process at home.
This ad listed one of their Blue Mantle Great Dane puppies that would be born in June for between $1,400 and $1,600.
I do not encourage breeding dogs at home without proper certification, but I am also not accusing every backyard breeder of mistreating their dogs. Some are reputable and some are not.
Unfortunately, that is the risk of considering buying from a backyard breeder.
21. Finding a Stray
This seems like an unlikely scenario, but it is possible!
Occasionally, you might see a poor stray dog on the streets. It is heartbreaking to think that this pup has to wander the streets in search of food or shelter.
Often, these dogs get picked up by a shelter. Although, would it be the worst thing to take it home? What would it take?
Bringing home a stray Great Dane might be spiritually rewarding due to the fact that you are potentially saving a life. Although, stray dogs can often be feral, have severe health problems or diseases of all sorts.
Do not attempt to domesticate a feral dog.
Initially, bringing the dog home is free! In order to domesticate this Great Dane, you must run a number of tests including:
Veterinary Examination
Heartworm Test
Fecal Testing
Blood Testing
Other tests/vaccinations recommended by doctor
These are general tests recommended to be done. Cost of these tests is often set at up to $500 but will vary between pet hospitals and what Veterinarian recommend for the specific Great Dane.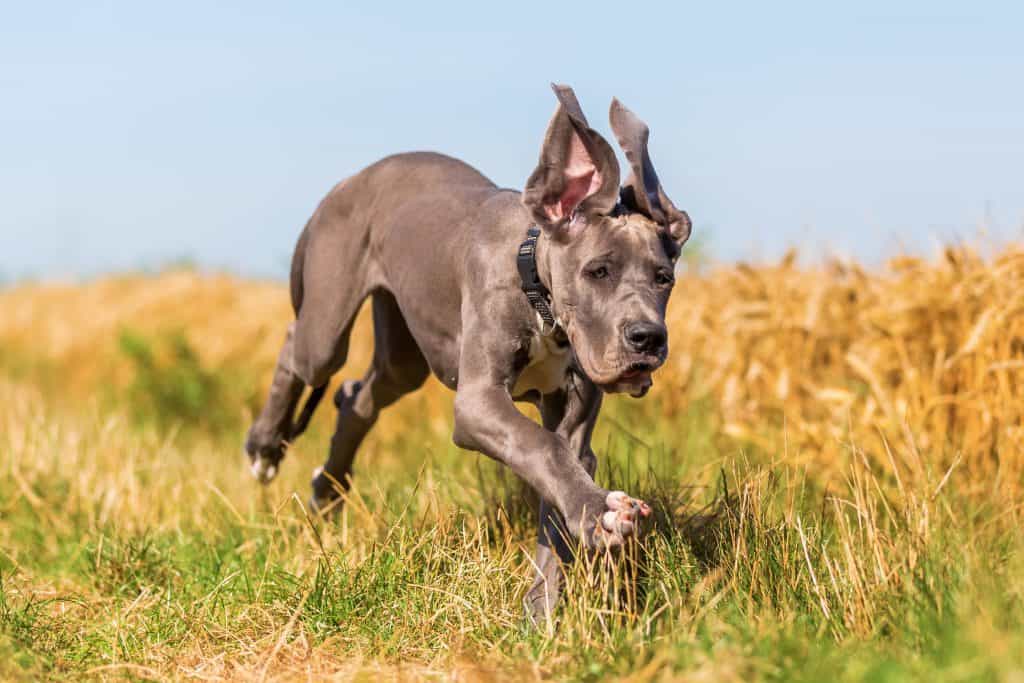 Why Are Ethical Breeders More Expensive?
As you go through these examples of costs of Great Danes in all types of circumstances, you might be wondering why purchasing from a breeder is more expensive! Is it even worth it?
In a short answer, yes!
Ethical dog breeders care for their dogs in ways that would probably make most people rethink how they care for their dogs.
The best breeders care for these dogs since the day they are born and will go to any lengths to ensure the best health and well being of this animal.
For example, I spoke with Jolene about JGD Great Danes and her experiences as a breeder. She, as a breeder, cares more about the owner's relationship with the dog than the money.
She described how she once departed with one of her favorite puppies because she saw that as soon as the kennel was opened, he came running to the man! The bond was automatic and unavoidable.
The cost of breeding dogs does not always turn a profit to the breeder.
When breeding a dog, extensive health tests and vaccinations can cost several thousand dollars! Whether the dog is sold or not, these tests are done for the wellness of the dog, not the owner.
All these tests and vaccinations might be able to save you money in the long run, too. Having to go the vet for an emergency can be expensive.
Many breeders will even invest in testing the parents and researching the dog's family up to 4 or 5 generations back in order to predict any health issues that might occur.
If you choose to buy from a Great Dane breeder, remember that you are paying for the health and well being of the dog itself.
Other Costs to Consider
Of course, the cost of initially buying a Great Dane can be stressful.
Most of the time, you are choosing between adopting or buying. In addition, once you make a decision, you have to find the right place and the right dog! What do you do when you find the right dog?
Costs associated with Great Danes often vary depending on how committed you are to your dog's health.
Food
Great Danes are tough, but are also fragile in some ways.
In order to ensure a healthy pup, Great Danes should be fed healthy dog foods with organic ingredients.
Furthermore, foods should be high in proteins and fats, especially in colder weather in which your Great Dane should build up muscle and fat.
Organic dog foods can often cost a bit extra, especially in the mass amounts that a dog the size of a Great Dane needs. Although, this is an investment in the health of the dog!
Medical Expenses
Medical costs of a dog are almost always determined by how well one treats their best friend.
A yearly veterinary check-up is recommended for every dog. This can often cost around $50.
Great Danes are very large and are unfortunately at risk for a number of health problems including cardiomyopathy, hip dysplasia, bloat, and others.
The Orthopedic Foundation for Animals (OFA) recommends that Great Danes be tested for the following:
Hip Dysplasia (OFA Evaluation, PennHIP Evaluation)
Eye Examination by a boarded ACVO Ophthalmologist
Autoimmune Thyroiditis (OFA Evaluation from approved lab)
Cardiac Evaluation (Advanced Cardiac Exam, Congenital Cardiac Exam)
These tests are recommended for every Great Dane, and at times can cost thousands of dollars depending on the location and extensiveness of testing.
Emergency medical costs can add up too!
Pet insurance is often laughed at but is actually a very helpful thing to have in your back pocket, especially if you choose not to get all the recommended health testing done on your Great Dane.
Pet insurance often ranges between $10 to $100 per month. Although average plans with decent coverage might be around $40-$50 per month, covering most health issues your dog might come across.
Without pet insurance and testing, your wallet might be at risk, not to mention your Great Dane's life!
Emergency medical conditions such as bloat or cardiomyopathy need immediate attention and could set you back anywhere from $1,200 up to $5,000.
The cost of a Great Danes is pretty high. I don't just mean money! Along with the proper financial care your dog needs, you will need to sacrifice time and energy into ensuring his/her health.