Average Cost of Buying a Husky (With 21 Examples)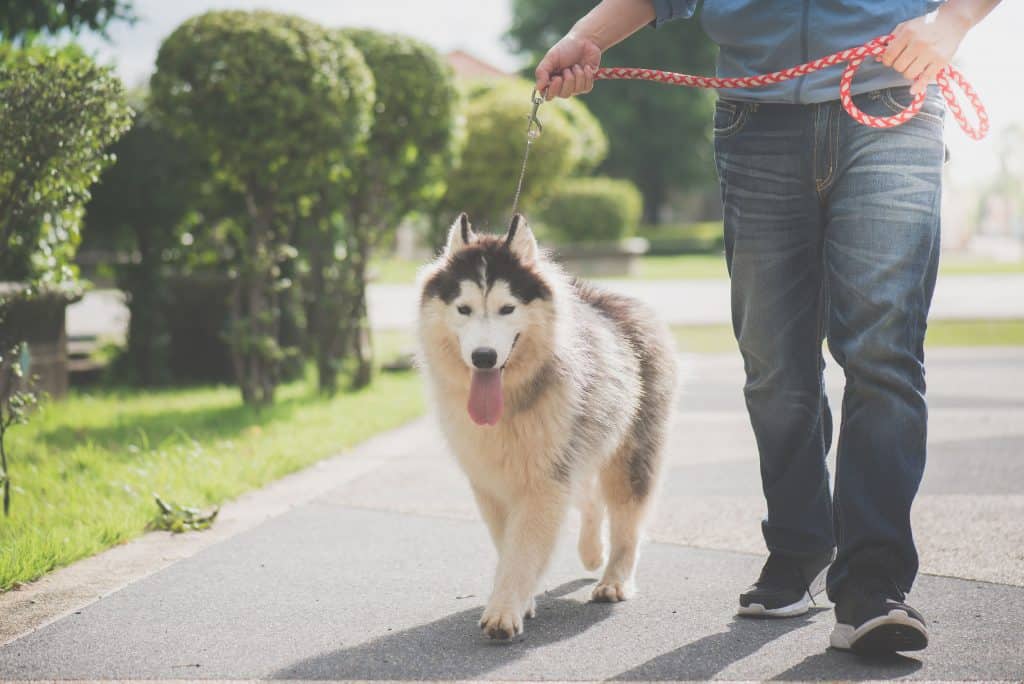 There are several different places who will sell you a husky. Here is a list of some of the best places/ breeders to get one! Before you look at this list of places to find this beautiful dog breed, you may be wondering about the average cost to purchase a Siberian Husky.
So what is the average cost of buying a husky? The average cost is between $100 to $1,400, depending on if you are adopting an adult dog or purchasing a pure-bred puppy. Puppies tend to cost more while adopting an adult dog will be less. Adoption centers usually require a small adoption fee.
Huskies will be more expensive if purchased as a puppy. If you are looking for an inexpensive Husky, you may want to look into adoption. Here are some examples of adoption websites and puppy sites that offer the best look at both sides, to let you choose which one you'd prefer.
1. AdoptAPet Website
One place where you can go to purchase a husky is adoptapet.com. This website allows you to find a husky for sale in your local area. When you first get on the website, it will ask for what you're looking for.
You can select your location and the distance around you that you're willing to go to purchase your pet. It also lets you choose what sex and the age of the pet if you have a preference.
Prices vary depending on the area but can be as little as about $100 for adopting an adult dog. You can look in your area for more specific prices. Adopting a pet is a great choice because it can be a lot cheaper than buying a puppy and it offers a safe home for those pets who have been abandoned.
Website: https://adoptapet.com/
2. MarketPlace.AkC.org
This website gives you a list of different dogs and puppies for sale for the husky breed. It gives you a detailed list of how huskies act and live to help prepare you before purchasing a dog.
For instance, if you look up Siberian Husky Puppies on the page, it can tell you about the dog and as you scroll down it will show you different breeders who are currently selling Siberian husky puppies. Prices for these Siberian Husky Puppies range typically from$600 to $1,000 on this website.
They even have puppies for sale that aren't even born yet! This is a trustworthy site because you can learn information about the breeder that you choose to buy from.
Website: https://marketplace.akc.org/puppies/siberian-husky
3. PetFinder.com
Pet Finder.com is a great resource for anyone looking to adopt a husky. It has a search bar which allows you to type in the breed, age, size, gender, and who the dog is good with (ex: good with kids or cats).
When you hit search, it will come up with several different kinds of huskies and husky mixes that are available near your area.
The nice part about this website is that it offers a variety of adoption agencies that are trusted. They include a little bit about the dog, if they're spayed/neutered and even if they are house trained. Although you would be doing an adoption, there are adoption fees that come with the dog.
Typically the adoption fee is about $185 to $300 to adopt a Husky. Not a bad deal considering the dog usually comes pre-trained, spayed, and most have had experience with families before.
Website: https://www.petfinder.com/
4. PuppySpot.com
Puppy Spot is a website that will show you several different Husky puppies for sale in the area. It allows you to filter what kind of husky you would prefer, depending on their gender, age, and color.
These puppies can be a lot more expensive compared to buying an adult dog or adopting a dog. The prices range from $1450 to about $3000.
To find cheaper puppies for sale, you can choose the sorting option to change it to low to high so the cheaper options come up first. It is also nice because it gives information about what the puppy's personality is like before you meet the puppy.
Website: Puppyspot.com
5. PuppyFind.com
Another website that lists different husky puppies for sale is puppyfind.com.
On the website, it will first describe the temperament and the care needed to take care of a husky puppy. Then if you scroll to the bottom it will show a variety of different Huskies for sale with their gender and price.
Prices for puppies on here generally range between $400 to $1600.
This website seems to be open for anyone to find or list a puppy for sale. It doesn't have too much information about the breeders so you will have to call and talk to the person selling the puppy to get more information on that.
6. Find the Best Breeder in your State on HuskyPuppiesInfo.com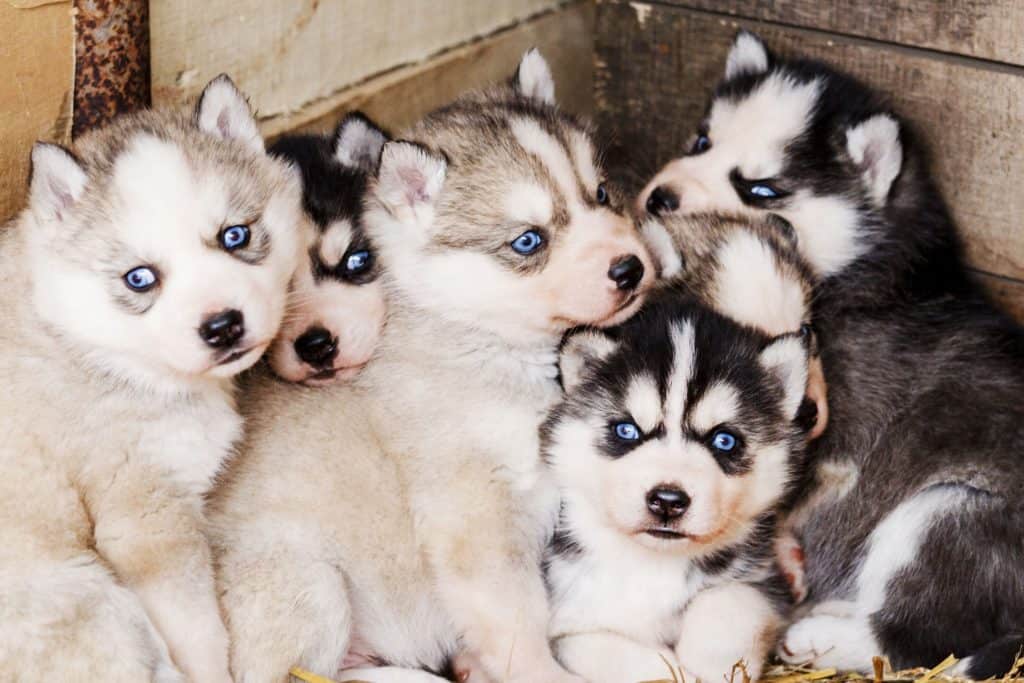 On this website, you can learn about different breeders to choose and purchase from. It allows you to click on the state your living in to see what breeders live there.
For example, if you live in California, it will pull up about 20 different breeders for different kinds of huskies. It will show their email, website (if they have one), their phone number, and location.
One example of a breeder is the Alnisar Siberians: www.alnisar.com
You can tell they really care about their dogs because tell you on the website about how they raise the puppies.
Prices can range on here depending upon the breeder. Sometimes it will not show the prices of the puppies but instead, just show fees. You can email or call these breeders to learn more information about huskies they offer.
7. Bama Huskies
A good breeder and a website you may want to check out is bamahuskies.com. They have a whole website made for you to look at upcoming litters so you can pick what litter you want your husky puppy to come from.
They are also a part of the American Kennel Club, which helps make them a reliable source.
The price for these puppies is $800 with a down deposit of $200 to hold your reservation for the puppy. They are beautiful puppies that offer a great variety for anyone looking for a husky puppy.
8. Loyal Siberian Husky
A great breeder in South Carolina is the Loyal Siberian Huskies. Since 1992 they have provided excellent care and services of their huskies and those purchasing them. All the puppies from this breeder are AKC registered as well.
Puppies are typically $1,500 to $2,000, with a holding fee of $200 on each dog. The holding fee usually goes toward the overall price of the dog. For more information, you can contact the breeder individually to ensure that this fee is included in the overall costs.
Website: https://loyalsiberianhusky.com/
9. Forever Husky
Forever Husky is a company that adopts out Huskies. On their website, they offer different pictures and descriptions of their dogs and what the adoption would include.
Their adoption includes the spay or neutering, vaccination, de-worming or de-flea treatment if the dog needs it and are micro-chipped.
The prices start at $425 for a puppy under 6 months, $400 for under 1 year, $375 for under 8 years old, and free if they are older than 8 years.
10. Tails of the Tundra Siberian Husky Rescue
This rescue is a great resource for finding different Huskies in need of a home. They ensure that their dogs are placed in good homes, so there is a process including a fee for adopting a dog from them, but it helps the dogs get placed in a perfect, permanent home.
For puppies 6 months and under the fee is $325 and charge $150 until you show them you have spayed or neutered your dog. 6 months to 8 years old requires a donation of $275 and Dogs that are older than 8 years are $150.
Website: http://www.siberescue.com/adopt/
11. Lancaster Puppies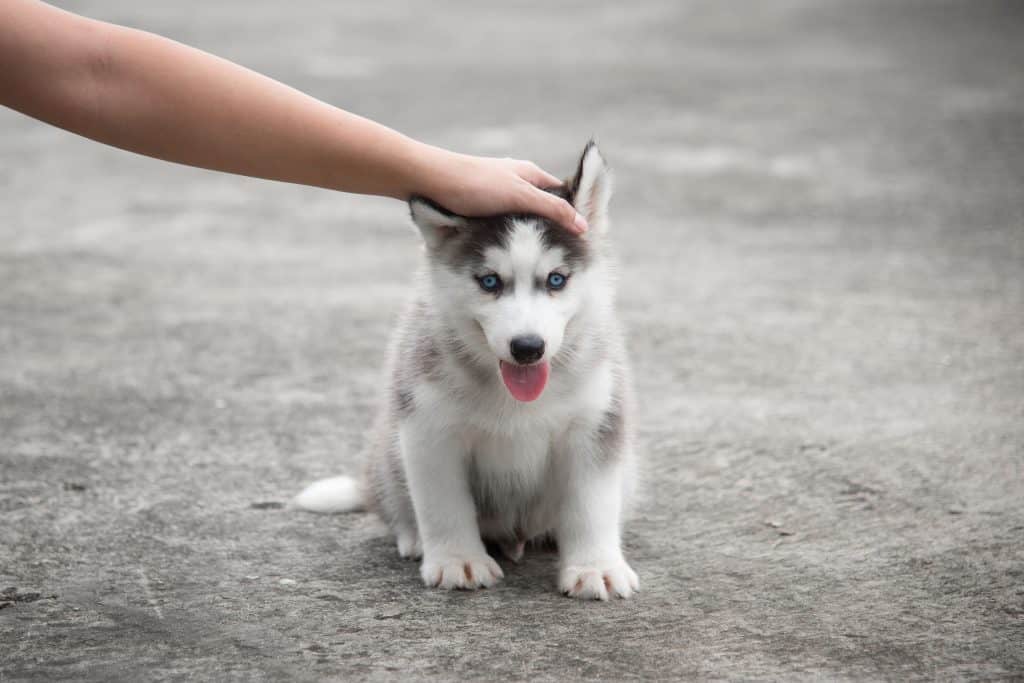 The Lancaster Puppy website offers several different puppies for sale and has a good selection of husky puppies for sale. Their website provides the phone number for the person selling it so you can call and ask questions about meeting with them to look at the puppies.
Prices range from about $300 to $800 for their husky puppies. This is a website that has a variety of different people who sell the puppies so it really depends on who is selling it and what kind of dog it is.
Make sure to check the breeder and the price before purchasing to ensure it is the right choice to make.
12. KC Kennels
KC Kennels is a breeder who breeds a variety of different colored, purebred, AKC registered husky puppies. They all have their shots, they claim to be potty trained (quite impressive) and that they are good around children and other animals.
The website provides contact information, as well, if you have questions about how the dogs are raised or bred.
Prices range from $550 to $580. This is a pretty good price for puppies considering usually they can go upward of beyond $800 or $1,000.
Website: https://www.kckennelhome.com/available-puppies
13. Hetta Huskies
Hetta Huskies is an adoption place for Huskies located in Scandinavia. Although they are a little bit further than the United States, they also deliver or you can come to adopt a dog overseas. If you're already living in Scandinavia, then you're in the perfect place!
On the website, they offer adult Huskies who are in need of a good home. They go into detail about what would be the best environment for that particular husky so you know which husky would make the best fit for you and your home.
Prices for adoption can vary depending on the dog. For the most accurate prices, you can check out the website and email the adoption center for exact prices.
Website: Hetta Huskies.com
14. My Siberian Husky Kennel
My Siberian Husky Kennel is a breeder that has lots of open space for the dogs they raise. They keep track of their dogs and offer a variety of different colored huskies. Some of these colors are: black, white, red and white, copper, and gray.
On the website, you can look at the upcoming litter and see if what colors for what gender could be available by making your first and second choice.
Prices range from $1,300 to $1,400. When you first request a dog, you will need to pay a $200 deposit which will reserve your spot and go towards the overall payment of $1,300 to $1,400.
Website: My Siberian Husky Kennel
15. Pets 4 Homes in the UK
If you are living in the UK, a great website to look for a variety of Siberian Huskies is pets4homes.co.uk.
There are several different colors and types of husky puppies on this website that range from about 400 to 850 pounds. This is about $522.12 to $1109.50 in US dollars.
16. Adopt a Husky, Inc
Adopt a Husky is a great place to check out if you are from Illinois and Wisconsin. This is just another example of how many great adoption centers there are around the world but know that this company only accepts applicants from Illinois and Wisconsin.
This is a trustworthy company because they make in-home visits with all the household members and have you meet the Husky to ensure that this particular Husky is a good fit for your family.
Prices are $300 if under 6 months, $195 from 7 months to 5 years old and older than that at $125.
Website: https://www.adoptahusky.com/home
17. Husky Rescue Free Spirit in Harvard, IL
This rescue is another great example for those looking to adopt a Husky in the Harvard, Illinois area. With their adoption fees the dogs come spayed/neutered, have a Rabies Shot, an are microchipped.
Also with your adoption, they will groom your dog, give him a new color, 2 days worth of food, and deliver your Husky to your house (must live within 3 hours of Harvard, Illinois).
Adoption prices are $400 for puppies one year and younger, $375 for dogs 1-year-old to 7 years, and $275 for dogs older than 8 years.
Website: http://www.huskyrescue.org/about-huskies
18. Husky House in New Jersey
The Husky House located in Matawan, New Jersey takes in abandoned Siberian Huskies and other dogs. They are a non-profit run organization and offer a wide variety of dogs available for adoption.
Like other adoption centers, you must live within one hour drive from New York City or Matawan, NJ. They do in-home visits before giving a dog away to a new owner.
For prices, you will need to contact the Husky house via email to see what is the price for each dog. It will, however, be similar to other adoption centers, very less expensive than buying a puppy from a breeder.
Website: https://www.huskyhouse.org/adopt
19. Arctic Rescue in Utah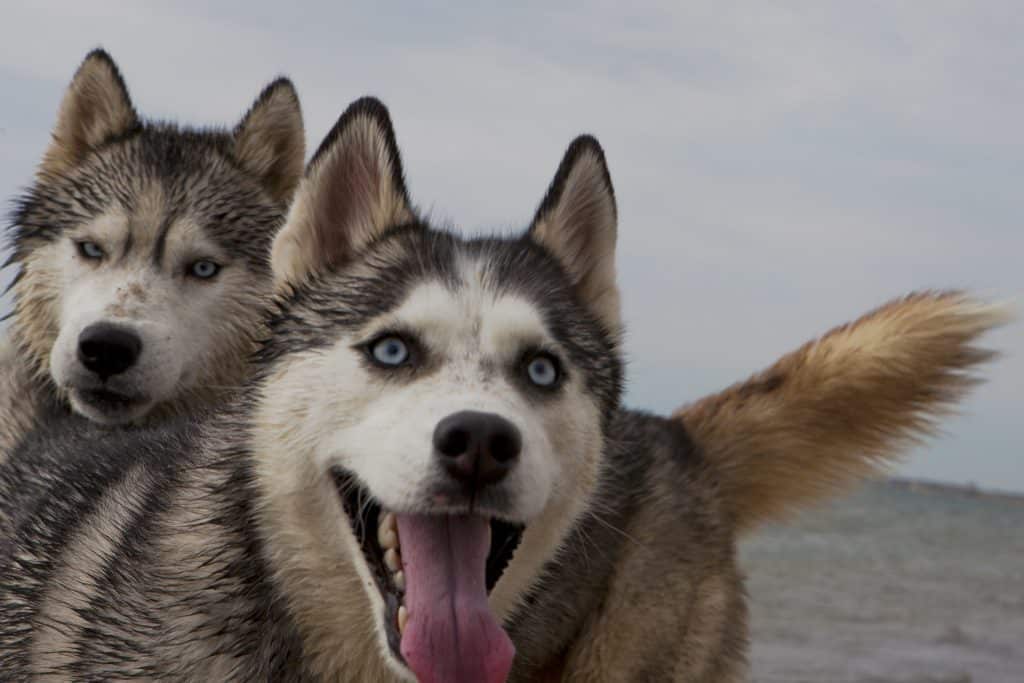 Every year this rescue takes in huskies that have been abandoned and need a new home. They ensure that the dog will be adopted into the best home, so they have the family meet with the dog before they are given a new home.
The price for adoption is giving a minimum adoption of $250 for older dogs and $350 for puppies. This is a great way to adopt a dog for less and give these poor Huskies a new home!
Website: https://www.arcticrescue.com/
20. Taysia Blue Rescue
Taysia Blue Rescue is a unique adopting center. Instead of having a shelter, they foster their dogs in-home until they can find a permanent family.
They are located in several sites and states including Nebraska, Iowa, Kansas, Missouri, Colorado, and more.
Before adopting a dog, an adoption donation between $200-$350 is required to help cover the costs of the Husky. A small price to pay to give a beautiful Husky a new, happy home.
Website: https://www.taysiablue.com/
21. Shoal Creek Puppies
If you're looking for a great puppy that could be shipped to you, this is a great option. Shoal Creek Puppies have a good selection of Husky Puppies and will ship them to you for just $350 more.
Prices are about $650 for each puppy. This includes up to date vaccinations and all have been to the vet to ensure they are healthy. They are good to go!
Website: Shoal Creek Puppies.com
Conclusion
There are several different places and ways you can purchase a Husky. It's important to check the breeder to ensure they are trustworthy and that the prices they are selling at are correct. Adoption centers are the best source though if you are looking to help a dog have a permanent home.
These dogs can be great resources because usually they are already potty trained, house trained, and are used to being around different people and animals.
Any Husky can be a great addition to any home. It is important to make sure you are ready to take in a Husky by looking into their needs and preparing your home and family for your new pet.
Several of the websites offer different tips and different characteristics to look for that could help you match a dog's personality to yours.
Remember that huskies are very active and will need a lot of love and excercise.
Related Questions
Do Huskies make good pets? Generally, Huskies make lovable, friendly companions that get along with families, children, and strangers. They are energetic, love to play, and do well in colder climates. They require a lot of work but when taken cared of properly can make wonderful pets.
Are Huskies hard to train? Huskies have been known for being hard to train because they can be stubborn, strong-willed. However, they can be trained if they have a good leader to follow. They are naturally pack dogs and love to follow a leader.