Can Rottweilers Eat Chicken?
Dogs love chicken; we see their ears perk up and hear their paws trail down the hall when opening the oven with tonight's chicken dinner. This raises the question, is chicken a safe food to feed your rottweiler? This post will include everything that you need to know about feeding chicken to your dog.
Chicken is a safe human food for rottweilers to eat in moderation. It provides the extra protein rottweilers need in their diet. In addition to plain chicken, meat based dog food is better for your dog than grain-based foods.
What does chicken do for your dog, and why is it better to feed them dog foods that are meat based instead of grain or other substance based? It is because rottweilers need protein. A high protein based diet will help to keep your dog healthy and strong.
Health Benefits that Eating Chicken Provides for Rottweilers
Rottweilers need a diet that is 22% to 28% protein. This protein can come in a few different ways, but by having chicken in their diet can help a lot. Chicken is a great source of protein that is healthy for your dog.
Rottweilers are a breed of dog that is likely to become overweight. Eating food that has a lot of protein and not much fat can help them to avoid this problem. Chicken can really help rottweilers to control their weight especially if they aren't getting as much physical exercise as they should be.
Chicken is one of the best types of lean meat out there and it builds muscle mass in many dogs. It also provides many essential nutrients not found in other foods, such as amino acids. It can help to strengthen their bones and their skin and fur.
Due to bacteria found in the chicken humans usually eat, it is smarter to try to find chicken-based dog food if you would like your rottweiler to eat it.
How to Feed Your Rottweiler Chicken
If feeding your rottweiler chicken is the route you would like to go, it is important to consider a few things.
Do not use seasoned chicken
Cook the chicken
No chicken bones
Firstly, if you are going to feed him or her chicken, make sure it is plain. Seasonings added to chicken can really mess up your rott's stomach and make them sick and reverse what you are trying to accomplish with weight control.
Secondly, it is much better to feed your dog cooked chicken. More and more people are feeding their dogs raw chicken these days. There haven't been too many issues with that reported but, raw chicken has a lot of bacteria and can cause salmonella. This can really make your dog sick.
It is also important to take the chicken off of the bone if it comes on one. Bones, especially chicken bones, are really brittle and can cause your rottweiler to get splinters or choke on the little pieces.
Chicken can be a meal replacement or you can mix it with your dog's regular meal. It is important to know that human food should only take up about 10% of your rottweilers diet. The other 90% should be food that is made specifically for dogs.
The best way to feed your rottweiler chicken is by finding dog foods that are made with chicken.
Why Choose Chicken/Meat Based Dog Food over Grain Based
Most dog foods will either be meat-based or grain-based. Most of the time, the grain-based food will be less expensive. However, meat-based dog food is so much better for your dog than ones that have grain-filler.
Like mentioned earlier, a rottweiler needs a lot of protein each day to stay in shape and to be as strong as they can.
We know that high protein foods include things like eggs, peanut butter, meats, nuts, etc. However since dogs should only have human food to fill 10% of their diet, it is important to find foods that can provide the same amount (if not more) protein than those protein-rich foods we eat every day.
When meat is the main ingredient listed in dog food, it is more likely to have more natural ingredients. When you look at a list of ingredients in dog food, often times you get halfway down the list and stop being able to pronounce the ingredients listed. This is a bad sign. You should know what is going into your rott's food.
If your rottweiler eats foods that are grain-based, they will have a much higher chance of gaining weight to the point where they become overweight. Since rottweilers are already at a higher risk than other breeds in this sense, it is even more important that the dog food is full of chicken and other meat.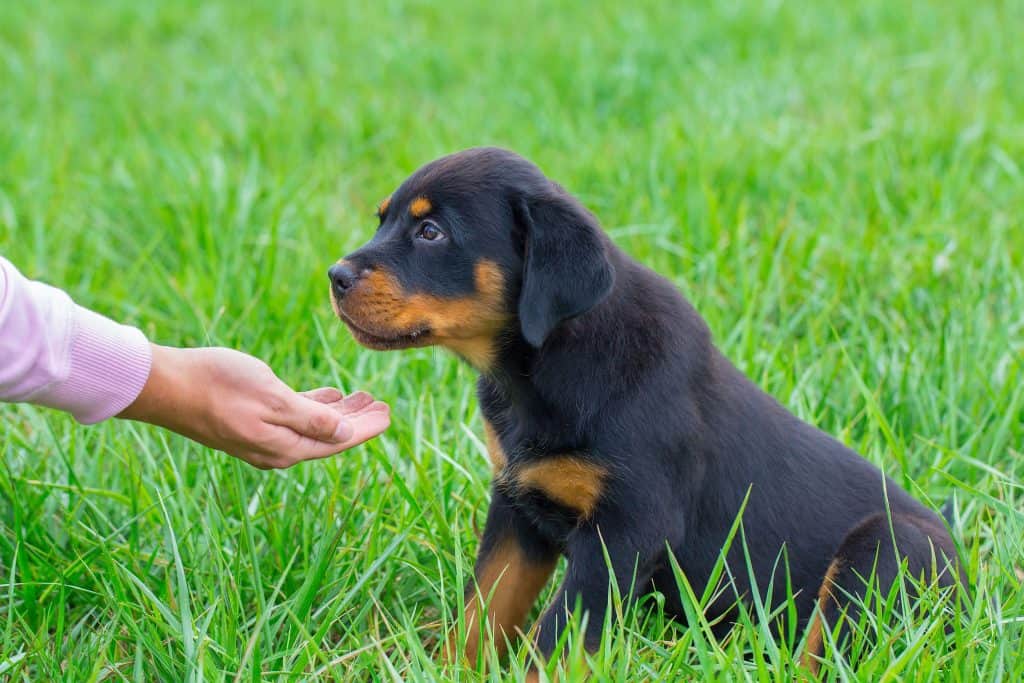 Dog Foods that Have Chicken in Them
Since we have emphasized the importance of selecting meat-based dog food for your rottweiler, I'll make sure that you know your options. These are some of the best dog foods that contain chicken.
1. Blue Buffalo
Blue Buffalo is a brand of dog food that is good for big dogs who need a lot of protein. They sell this brand for both puppies and adult dogs, as well as small, medium, and large dogs.
Like mentioned earlier, it is going to be a little bit more expensive because it is meat based.
This food is not only chicken-based, but it is grain free, so this will be really good at helping your rottweiler with having a balanced weight. Here is a link on Amazon to look at or buy different Blue Buffalo dog foods.
2. Wellness Core
Wellness Core is another great brand of dog food for dogs like rottweilers who need high amounts of protein. It is around the same price as Blue Buffalo, but it has some awesome benefits.
This food also does not have any grain which is helpful for rotts, but some of the additional things this food helps to accomplish take care of some health issues many rottweiler faces in their lifetime.
Wellness Core helps with hip and joint support, which is an issue common among rottweilers as they grow up. This brand of food was made to cater to dogs who need to eat lean foods. Here is the link to Wellness Core's chicken and other meat-based foods.
3. Pedigree
This brand of dog food is good as well. It isn't grain free, which isn't the best thing, but it is meat based. It has very high levels of chicken or other meats if you are interested in feeding your rott other types of meat.
This brand of food is much less expensive than the other two brand listed here, probably due to the fact that it does include some grain filler.
They sell a lot of different types of dog foods with this brand, which all accomplish different purposes, so you can find one that is best for your rottweiler. Click on this link to go see the different types of dog food's Pedigree has.
What to Watch Out for When Feeding Your Rottweiler Chicken
Some dogs are allergic to chicken. When it comes to dogs, chicken is one of the top ten food that dogs are allergic to. If your dog has this allergy, chicken could make him or her very sick.
Try feeding your dog a small portion of cooked chicken first, to see if he or she has any reactions.
Make sure that when you are preparing chicken for your dog that you don't season it with anything. It is best to buy uncooked chicken and cook it yourself if you are going to give it to him or her cooked.
Many precooked chickens you buy at the store have some sort of seasoning in them that does not settle well in your rottweilers stomach. Boiling is also the safest way to cook chicken for your dog. If you cook it at home, stay away from cooking it with anything else, even onions can upset your dog's stomach.
Like I said earlier, it is okay for your dog to eat raw chicken if it is prepared very carefully and specifically. Raw chicken can be very dangerous and if it is not prepared right, it can make your dog really sick.
Also mentioned earlier, chicken potentially has bacteria that can make your rottweiler sick. Make sure you buy lean chicken and remove all fat on the chicken because high-fat foods can cause pancreatitis, which is when the pancreas is inflamed and swollen. Be safe when you serve your rottweiler chicken.
When deciding what to feed your dog, the best source for you to go to is your vet. Your vet knows your dog best and can give you the best advice on what to and to not feed your rottweiler.