Average Cost of Buying a Rottweiler (with 21 Examples)
Rottweilers are one of America's favorite breeds. They are very high-quality dogs, and because of this, their price is an important thing to consider when becoming a Rottweiler owner. This post will include everything you need to know about buying a new Rott for you or your family.
The price of Rottweilers can vary depending on where you buy them, and how old they are. On average Rott's cost:
| | |
| --- | --- |
| Location: | Price of Rottweiler |
| Experienced Breeder | $1,500-$3,500 |
| Puppy Mill | $850-$900 |
| Backyard Breeder | $850-$900 |
| Adoption of Full Grown Rott | $0-$300 |
The quality of Rott that you raise will very heavily depend on who you buy it from. The first few days and weeks of a new puppy's life is crucial and can impact them forever. Making sure that you are buying a quality dog will be critical for long term happiness with your new four-legged friend.
How Much Does a Rott Puppy From an Ethical Breeder Cost, and Why is it More Expensive?
As listed in the chart above, experienced, ethical breeders have the most expensive Rotts on the list. There are many reasons that their pups do sell for $1,500 to $3,000.
The main reason that each reason can tribute back to is that these breeders have the dog's best interest in mind. They want the puppies to be raised right and so giving them a great start in life is important.
These breeders charge more money for their pups because they invest more money in them. The average amount of money they put into each new litter is far more than the amount you will spend on your pup from them.
\"The purchase price of a Rottweiler is a drop in the bucket when you compare to the cost of total rottweiler ownership. Cheap things are not good and good things are rarely cheap."King Rottweiler LLC
First and foremost, they make sure not only the puppies but the parents have the best medical care. They make sure each dog is "health certified", as well as following and keeping up on their health testing.
During the pregnancy of their Rott, they spend money on ultrasounds and X-rays, as well as a cesarean delivery of the puppies, if necessary.
Additionally, when the puppies are born they do a lot to make sure these pups are taken care of medically. A good breeder will vaccinate and de-worm each new pup. They will dock their tails and declaw them.
Total all of the medical expenses for the parents for each litter comes to totals between $500 and $2,000. For each individual puppy, the medical expenses are around $100.
Medical expenses aren't the only cost coming out of the breeder's pocket. To even breed their dog, they need to pay what is called a "stud fee" for each attempt. This is a $500 fee.
Preparing for the puppies to come includes a payment of $400 for new puppy supplies as well as a "new puppy packet." When the mom is pregnant she requires special food and supplements which can cost up to and over $300.
In total, if a breeder were to have a litter that is the average size of 10 Rottweiler, the total cost for that specific pregnancy, not including normal checkups required for all healthy dogs would range from around $3,000 to $5,000.
This would depend on how many attempts necessary for the dog to become pregnant and if a C-section was necessary or not.
A good, ethical breeder will also be constantly keeping their dogs healthy with checkups and necessary medical visits for dogs who actively breed.
Not only this, but they will be giving their dogs the best food for their growth as well as keeping wherever it is that they breed apt for new puppies to be raised in a healthy environment.
Here are 4 really important things that also contribute to buying a new Rottweiler that happens behind the scenes or seem insignificant. A good breeder will:
Let you get to know them.
Provide you with a pedigree chart of your pup.
Screen their dogs before breeding
Socialize the puppies
Let you get to know them:
A good breeder is going to give you as much information about themselves as you would like. They will let you meet the parent dogs, look around their breeding location, and answer any and all questions you have about the puppy you are going to buy.
When you buy a puppy, you are also buying the breeder, so this plays such a big role in the cost of your Rott.
Provide you with a pedigree chart of your pup:
It is important for you to know where your dog is coming from. Knowing the medical history not only of the puppy but their parents can help you to prepare for the future.
A good breeder will always be more than willing to show you the health validity of their dogs.
Screen their dogs before breeding:
Like mentioned many times in this post, a good breeder wants the best for the dog. They are going to do everything they can to make sure that their Rotts are healthy.
This can cause them to charge more for their puppies, but that avoids future major health expenses on your part.
Socialize the puppies:
This is arguably the most important thing that breeders can do to prepare your Rott for you, validating a higher cost. Socializing Rottweilers is so very important.
They need to be around other dogs and people right away so they know how to behave and how to get along with unfamiliar people.
It is obvious that these breeders absolutely love their dogs. They want the best for them, and they don't breed just for the money to make off of it.
They have the dogs and puppy's best interest at mind and they want to do whatever is necessary to take care of them.
Why You Should Consider a More Expensive Dog Over Going to a Puppy Mill
Two of the other ways of buying a new Rottweiler were from a "puppy mill," and a "backyard breeder." These are people and places you most likely want to stay away from. Always stay away from puppy mills, and be careful about backyard breeders.
Puppy mills are extremely unethical and the people that own and work at them are only in it for the money they can make.
The parents don't receive nearly the same amount of love and care that those from ethical breeders do. When the puppies are born they aren't given the care and attention they need.
Especially in regards to Rottweilers, immediate attention is so crucial due to their innate instinct to be aggressive as they grow up. If socialization isn't begun right away, it could affect the rest of their lives.
Even though these dogs will appear to be less expensive now, they have much higher chances of having future health problems. The prices can make up for and well exceed the difference in buying your Rott from an ethical breeder.
Backyard breeders can have the same issues. These pups are often better-taken care of due to the fact that they are usually a result of some random dog coming by your house while your female is in heat.
There typically aren't as many dogs being bred as in a puppy barn, but some of the same risks are apparent.
First, you most likely won't know the medical history for the father of your Rott, and the mother might not have been ready to have puppies at that time.
The breeder won't be as experienced or know the things he or she needs to do with a new litter of Rottweilers.
If you had to choose between a "backyard breeder" and a "puppy mill," choose the backyard breeder every time. However, it is best to stay away from these types of breeding altogether.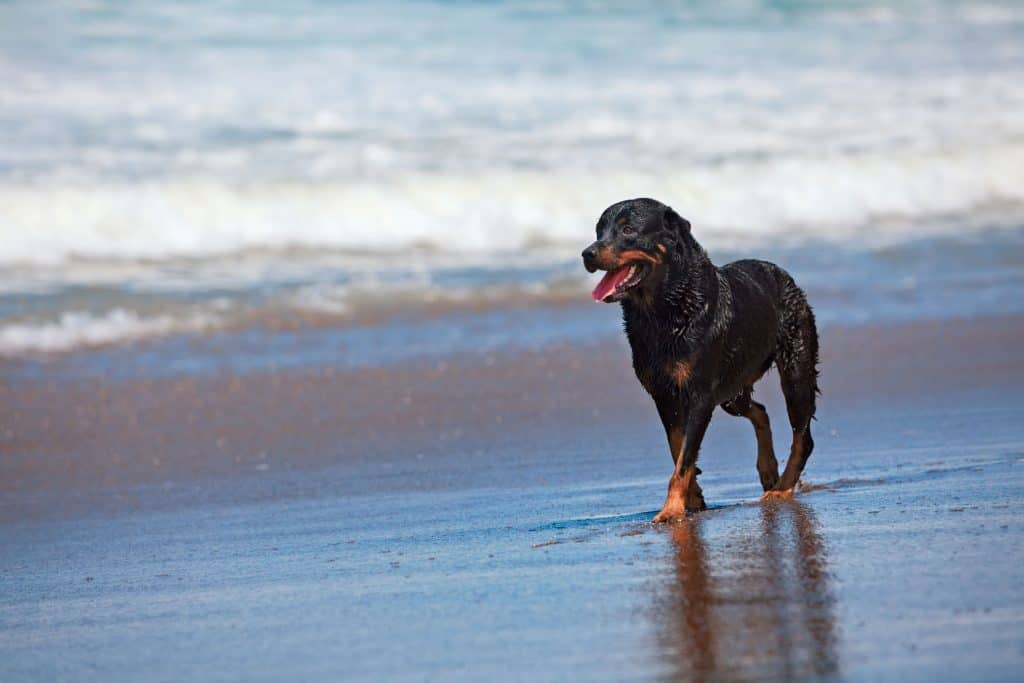 Cost of Full Grown Rottweilers
If the cost of a new puppy from an experienced breeder is too much for you, or if you or your family aren't looking for a brand new puppy right now, you can definitely look into adopting or rescuing an already grown Rottweiler.
These dogs are much less expensive. They can be free, or have a small fee being under or near $300. These dogs need homes too, so it isn't a bad idea to look into this option.
A bonus to adopting these dogs is that many times, the previous owner will include all of the stuff they have for them including their kennel, food and water bowls, toys, etc.
Something to watch out for when considering adopting or rescuing is the potential that these Rott's haven't been trained, or socialized. If they were trained poorly they can cause problems for you and your family.
If these Rott's weren't socialized as puppies, training them as adults are going to be more difficult. It can be done, but it will be much harder than having them since they were puppies and knowing their behavior from that young age.
There are so many dogs out there that need to be rescued. Looking at the puppy mills we see that there are so many dogs treated very poorly and not receiving the love they deserve.
Adoption is a great way to help dogs in your local community to have a better life. It might be hard because of their past, but it is so worth it to know you are making a difference in helping these dogs.
Examples of Rottweilers' Price
Each state has different breeders who sell their Rott's for different prices. Here are 21 different states and their average price for puppies to either adopt/rescue, new puppies to buy, or both.
State
Average Rottweiler
Price
Adopt/Rescue or Purchase
Idaho
$150 to $1,800
Average price for both Puppies and dogs rescued or adopted.
Utah
$1,500 to $2,000
Average price for puppies.
Montana
$300
Average price for rescuing a grown Rott.
Wyoming
$300
Average price for rescuing a grown Rott.
North Dakota
$300
Average price for rescuing a grown Rott.
South Dakota
$300
Average price for rescuing a grown Rott.
California
$2,000
Average price for puppies.
Washington
$1,500 to $2,000
Average price for puppies.
Pennsylvania
$600 to $1,500
Average price for puppies.
Texas
$750 to $3,000
Average price for puppies.
Florida
$1,000 to $1,500
Average price for puppies.
Alabama
$100 (adoption fee)
Average fee for adopting a Rottweiler.
Nevada
$1,000 to $2,000
Average price for puppies.
Wisconsin
$1,000 to $1,200
Average price for puppies.
Ohio
$750 to $1,300
Average price for puppies.
New York
$1,000 to $3,000
Average price for puppies.
New Jersey
$1,800 to $2,000
Average price for puppies.
Virginia
$800 to $1,000
Average price for puppies.
Illinois
$200 to $375
Average Fee for adopting a Rottweiler.
Georgia
$500 to $1,500
Average price for puppies.
Colorado
$1,300 to $1,600
Average price for puppies.
According to each breeder, the price will be different depending on how they took care of the puppies or how much they put into them.
Many ethical and good breeders will not expose their prices for puppies on a website until you have shown your desire to buy one of their dogs due to the work they put into producing the highest quality puppies possible.
Other Costs Associated with Buying a New Rottweiler
Buying a new Rottweiler doesn't just include the puppy you bring home. You have to be aware of the other costs associated with this new member of the family.
It is important especially if your Rott is a puppy, that he or she goes to the vet weekly. Depending on your vet, that price will vary, but finding a vet and setting up an appointment should be one of the first things you do.
Unexpected visits to the vet may cost hundreds or even thousands of dollars, and there is no real way to plan in advance for this.
Buying a crate for your dog to sleep in is another expense you will have to pay for.
These can go for different prices depending on the type of crate you would like. A high-quality crate that your Rott will like will be around $75. With the crate, you will want to have a dog bed for your Rott in a common room or somewhere that he can lie down. This can cost around $20 to $30.
You will want to invest in a dog collar, leash, and identification tags. These can be found for pretty cheap at Walmart and can get more expensive if you look at fancier places. All three of those combined can range from $25 to $40.
Food and water bowls are also necessary. You might even consider having more than one water bowl, so you can have one inside and outside. These can be anywhere from $10 to $25.
You will need to buy food for your pup often. Research to decide which food is going to be best for your pup and they grow older. There are a lot of great dog foods that provide the nutrient and vitamins your Rott will need.
Over your life with your Rott, you will have to keep up on many of these expenses. It is important to visit the vet as well as consistently buy food for your pup.
Choosing where you buy your Rottweiler from will play a very large role in where those expenses come from. Know as much as you can before buying a new Rottweiler for you and your family.
Always remember that cheaper is not always better. Especially with dogs. Many breeders take great care of their dogs and put a lot of money into how they turn out.