Are Beagles Picky Eaters?
I have a new Beagle, and she hasn't been eating much lately.
She doesn't seem to be sick. She plays and explores like normal, but I am curious to know the Beagles' eating habits and if I should be concerned and take her to the veterinarian.
Worried, I decided I would do a little research of my own before contacting the veterinarian.
What I discovered was interesting.
Are Beagles Picky Eaters?
Beagles are not picky eaters at all. While some dogs might turn their nose up at certain foods, Beagles are not a picky breed. They will appreciate some variety in their diet, but a sudden change in your Beagle's eating habits is likely a sign that something is wrong.
Knowing what to look for can help you determine whether you're dealing with a sick dog or just a spoiled one.
However, they can get a little bored at times like any dog would if they are constantly fed the same dog food every day.
When it comes to food for a Beagle, or any dog, just like humans, they do need a little variety at times, which is easily fixed.
There are some reasons why any dog might suddenly become picky that aren't necessarily related to the food they are offered. 
For instance, if they are suffering some ailment, whether it is a mild tummy ache or something more concerning, they may eat less and appear to be picky at that moment.
In this case, they should be taken to their veterinarian for a checkup.
Usually, when they are suffering an illness, there will be obvious signs.
Though they may be subtle, they might be licking a particular area of their body more or scratching.
They may have skin irritation or sleep more, vomit, be less playful, or many other things that can quickly go unnoticed unless the pet parents pay close attention.
A Beagles age can also influence how they eat, including appearing to be a picky eater from one day to the next.
If they were overfeeding the previous day or perhaps were sneaking snacks at last night's party, they might appear to be picky too.
Aside from that, there is also the possibility that they may react to something they touched or eaten while they were outside, and it went unnoticed.
Even if they are on medications or have had a recent vaccination or illness, they could still be recovering and not feel enthusiastic about eating.
Whatever the cause, Beagles are not picky eaters but may have moments where they seem to be for a short period.
The good news is most of these situations are easily fixed.
All dogs love food. That is why they can eat almost nonstop, repeatedly.
While some dogs can be picky eaters that turn their nose up at certain foods, most dogs, and especially the Beagle, do not usually become picky for no reason at all.
To be a picky eater, whether we are talking about a Beagle, another dog, or even a human child, is usually linked to something so straightforward that we often overlook it in our own daily routine.
Boredom is most often the root of all pickiness when it comes to food.
If a Beagle is fed the same food repeatedly, every day, like we humans, they will become picky and decide they don't like what is on the menu.
There are some other reasons why a Beagle may suddenly become a picky eater.
For instance, if they suddenly become picky with the food they are fed, and the pet parents change things periodically to keep the food interesting, it can be linked to an undiagnosed illness.
Illness, whether short-term, like a mild tummy ache or more severe, can cause changes in the way a dog eats and lives its life.
Most often, when this happens, there are other signs that a pet parent can notice if they pay close attention.
The Beagle might sleep more or be less playful.
They may scratch, lick, and bite more often. They might even appear snappish or less enthused about life in general.
If the pet parents pay close attention to the food bowl and their Beagles' other habits and see subtle changes, it may be time for a trip to the veterinarian for a check-up.
There are other causes for sudden pickiness that can include a recent vaccination or trouble with their medications.
If they are older, the Beagle may become picky because they don't always feel well.
Aside from that, if they overindulged the previous day or ate something that they weren't supposed to, this can cause them to appear picky with eating.
What can I do if my Beagle is a picky eater?
What you can do if your Beagle is a picky eater is to change up their diet first.
Add a little variety to their diet, which can include some gravy drizzled over the top or a few morsels of their favorite treat thrown in.
If these changes are still met with pickiness after a day or two, it is good for the pet parent to pay attention to their behavior and how they act in their day-to-day life.
Taking note of any odd behaviors, changes to certain things or anything out of the ordinary is helpful and can point the way to any problems they might be having.
If they appear to be uninterested in a walk, take them out anyway and try a different location for your walks, or go for a walk if they are usually left to run around the fenced-in yard.
Use what is discovered to make small changes to their lifestyle to see if anything changes with their diet.
After a day or two of this, if the pet parents don't see any change, it may be best to contact their veterinarian.
For the above instances where a health issue is a cause until they visit their veterinarian, the only thing that can be done is offer their favorite foods and keep things entertaining, so they are as interested in food as possible.
Aside from that, offer lots of love and comfort and never force-fed them if something more severe is going on with their health.
If the Beagle is a picky eater because they are older, the same methods can be used to entice, but the pet parents should be mindful that as a dog ages, their dietary requirements change.
With age, a dog will naturally slow down and enjoy the leisure life more often. This requires less food than they usually eat.
Not to mention that their senses of smell and taste are lessened, and their organs process food slower, therefore eating less and being a little picky may be expected from one day to the next.
For the Beagle that partied a little too much at last night's barbeque and appears to be turning up its nose at today's breakfast and dinner, with time, their appetite will recover on its own.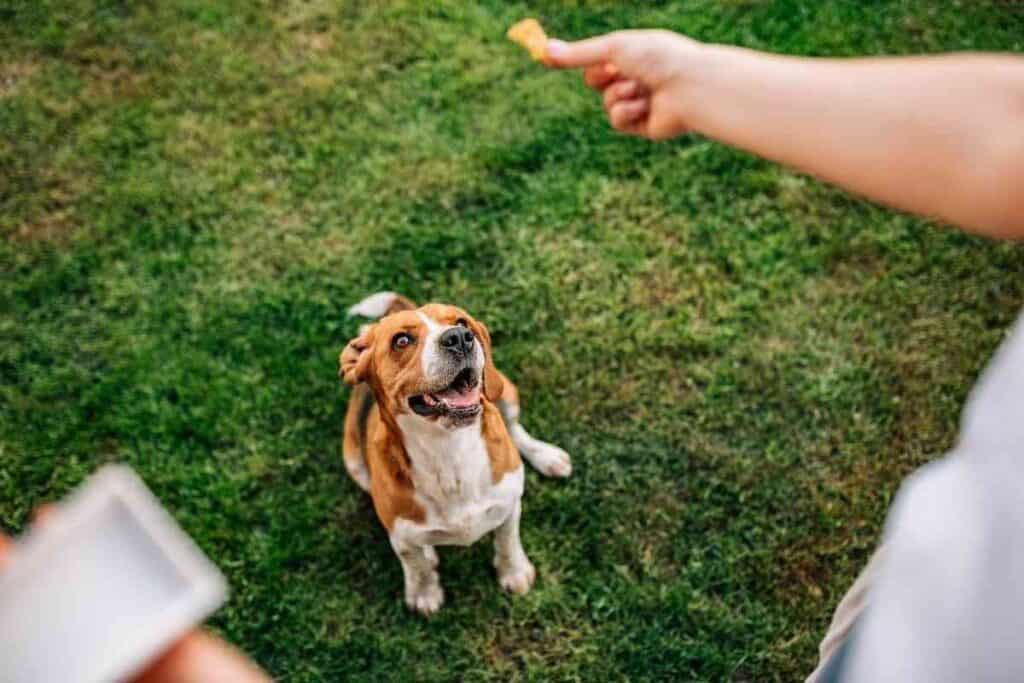 Depending on what they ate, it may be best to offer a bland diet for the next day or two.
The same can be said for the Beagle suspected of eating something they shouldn't have while playing in the yard.
If, however, it is supposed that the Beagle snacked on some surprise elements and they aren't eating but begin vomiting a lot, it may be time to contact their veterinarian.
Beagles, like other dogs, usually have cast-iron stomachs, but there are a few out there that have a more delicate digestive system, so pet parents should keep a watch.
Finally, when it comes to vaccinations, medications whether newly given or newly changed, with time, the Beagles' appetite will return, and the tactics mentioned above for keeping things interesting are helpful.
Aside from that, feeding less food at a time can help them in all of these situations.
If they eat just one bite and then turn their nose, it is better than nothing at all, and there may be a reason so a pet parent should let their body do what it is doing, telling them not to eat at this time.
If the Beagle appears to be picky but healthy, it may be necessary to set a time limit for them to eat, say fifteen minutes, and then take the bowl away.
Another idea is to make sure the Beagle's feeding area is safe, so other dogs or household members can't get to it, so they don't feel like their food isn't their own.
The possibilities for getting your Beagle to eat can include other simple tricks like warming the food up, switching to wet or dry for interest, and making sure they are getting enough exercise which promotes healthy eating habits.
Final Thoughts
Beagles are not picky eaters, but there are a few times in every dog's life where they don't feel like eating.
When this happens, changing the menu can often fix the problem.
If that doesn't work, there can be other causes for this behavior in your Beagle, most of them easily fixed.
However, if this behavior is problematic to their pet parents at any time, a veterinary appointment is the best choice for peace of mind!