The Ultimate Guide to What Beagles Can (And Can't) Eat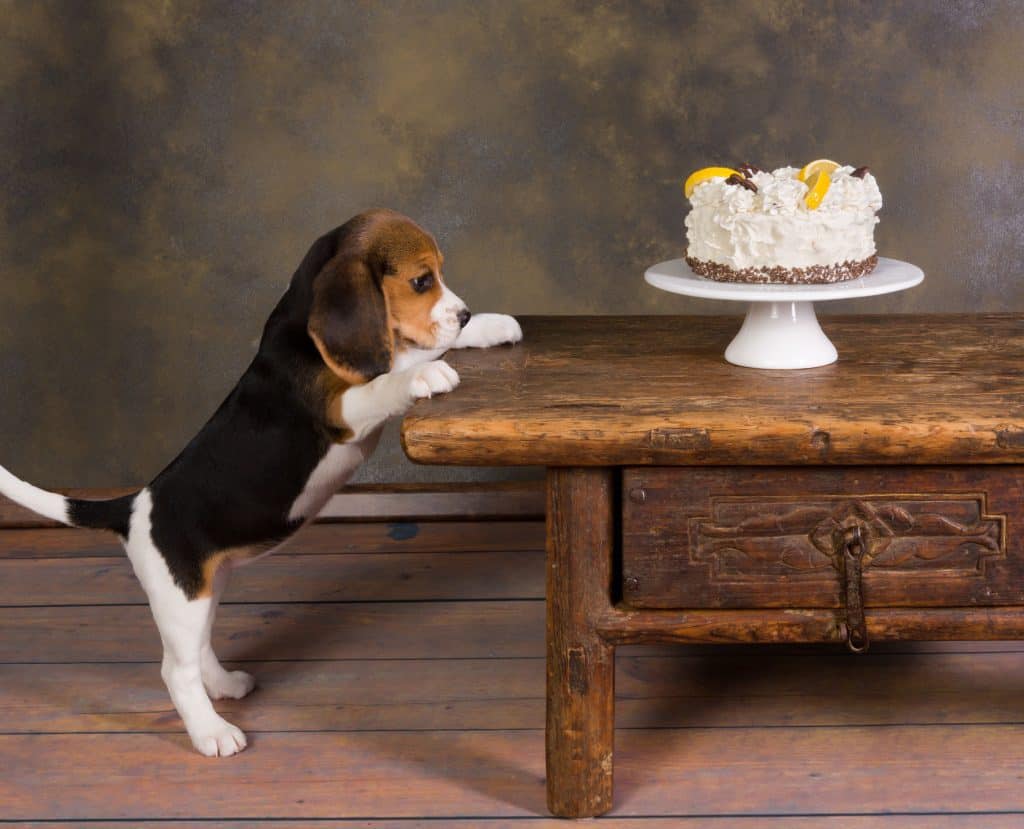 We all love to treat our playful, four-legged friends with some "human food" every once in a while. However, we need to make sure that we know what we feed our pups and make sure that we don't feed them anything toxic for them.
What are some recommended foods for Beagles, and what should they avoid?
Beagles can eat most meats, fish, cheese, yogurt, popcorn, wheat and grains, and peanut butter which does not contain xylitol. Avoid feeding your Beagle apple seeds, avocado, coffee, tea, sugarless gum, anything with xylitol, alcohol, yeast dough and mustard seeds.
Below, I have included lists of what your Beagle can and can't eat so that you know to avoid certain foods to save the health of your pup. I have also included what to look for in a bag of food so that you will know what are the best ingredients for your pup.
Cans and Can'ts of Food for Beagles:
I have done some research and have compiled a list of all of the foods that you can and absolutely cannot feed to your Beagle friend.
Remember, if feeding your Beagle food from the "Can Eat" list, make sure to still keep these foods within moderation. They can be a great snack for your pooch and even be a garnish for their meals, just as long as you don't solely rely on some of these foods to feed your dog all of the time.
Also, make sure to completely stay away from feeding your Beagle anything on the list of foods they "Can't Eat" because these foods are toxic or bad for your dog in some way. By avoiding them completely in your dog's diet, you will help to prevent your pup from getting sick and possibly dying.
What Beagles Can Eat:
Bread
Cashews
Cheese
Coconut
Corn
Eggs
Fish
Ham
Honey
Milk
Peanut Butter (without xylitol)
Peanuts
Popcorn
Pork
Quinoa
Salmon
Shrimp
Tuna
Turkey
Wheat and Grains
Yogurt
Foods Beagles Shouldn't Eat:
Alcohol
Almonds
Apple seeds
Apricot Pits
Avocados
Candy
Cat Food
Cinnamon
Coffee
Grapes
Sugarless gum
Macadamia Nuts
Mustard Seeds
Onions
Peach Pits
Potato Leaves and Stems
Raisins
Salt
Tea
Tomato Leaves and stems
Walnuts
Xylitol
Yeast Dough
Best Dog Foods for Your Beagle
Beagles have some special dietary needs due to their biological purpose. These types of dogs are known for their noses and natural hunting abilities. They were once used to help their owners hunt and retrieve small game. They were used for such activities because not only do these dogs have excellent noses, but they also have very high energy levels.
When selecting a dog food for your beagle, you will want to select one with poultry, fish, or whole meats listed as the first ingredient on the label on the packaging because that will help to show its high protein rate.
Also, find something with sunflower oil, safflower oil, or fish oil in it because that will help to keep your dogs coat shiny and healthy along with helping to keep up with the dog's energy levels.
Another thing to ensure your dog's food doesn't have grains in it. They are not great for your dog. You should also stay away from meat by-products. You only want the whole, natural meats in your dog's food. Keep the ingredients as natural as can be for the healthiest dog food.
It is also suggested that you get dry food for your beagle because it is super good for their teeth. It keeps their teeth clean and won't go bad if you free feed your dog during the day.
Now that we have established what a good dog food consists of for your happy pup, let's get into this list of dog foods for your dog
Orijen Regional Red for Dogs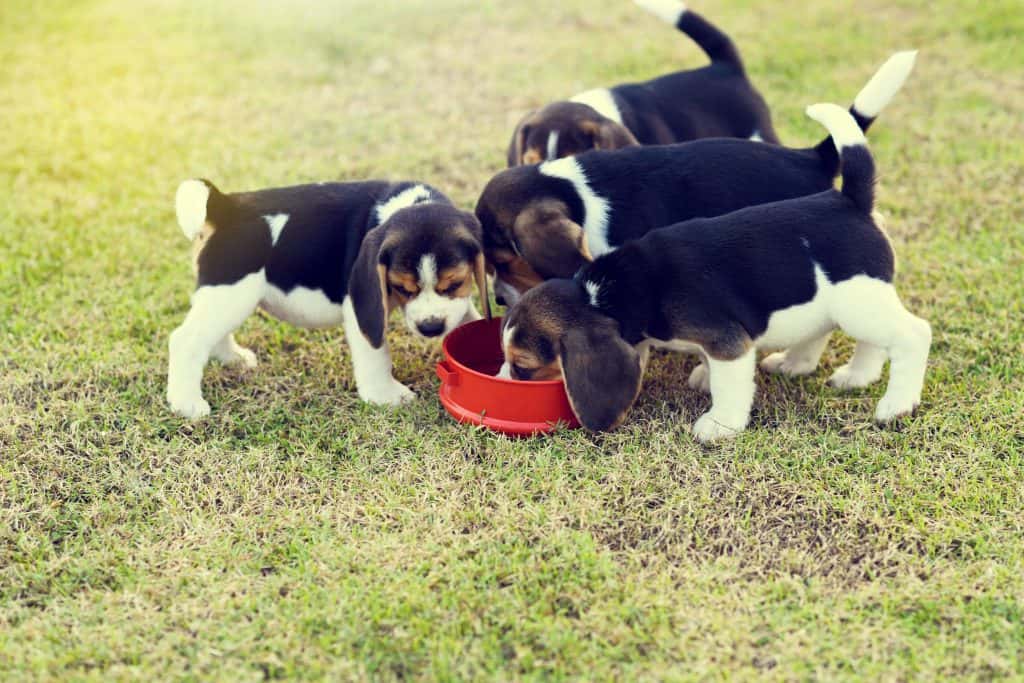 This dog food is super high in protein and has a variety of flavored foods to choose from for your dog. About two thirds of their meat products in their food is fresh and 38% of the calories in their food comes from the included protein sources.
It is a widely available food brand with a load prime ingredients. It will cover all of the nutritional need your dog will have. However, with this good of a food, it does come at a cost. This food can get pretty pricey due to it's prime production and value. If you aren't worried about prices of dog food, however, this would be the best one to get for your dog.
Blue Buffalo Wilderness Rocky Mountain Recipe
Blue Buffalo is a great brand of dog food as well. It has high-quality ingredients, is high in protein, and is completely grain free. It has all the nutrition your dog will need from high-quality proteins in larger amounts, all of the necessary fruits and vegetables for antioxidants, and probiotic strains.
This brand is very well-known and easily accessible from a variety of methods of purchase and retrieval. It is also a brand that is completely manufactured in the US. It is on the expensive side, but you pay for the high quality, all-natural ingredients that are in the dog food.
It is super good for your dog and is one of the top-selling dog food brands.
Taste of the Wild, Canine Formula
Taste of the Wild is another great dog food brand. It is made to imitate the ancient dogs', such as wolves, a diet which is much more natural and healthy than most dogs nowadays. This brand uses natural, roasted meats along with sweet potatoes, potatoes, and peas as its main ingredients.
My dogs used to eat this food and they absolutely loved it! It was super healthy for them and tasted great.
This food is 100% grain-free, as is best for dogs, and provides any and all nutrients your dog will need. Along with having a great list of protein ingredients listed, this food fits all of your dog's needs. It is also a reasonably priced food as well! The food brand also only manufactures at 3 facilities in the US and nowhere else.
Blue Buffalo Life Protection Healthy Weight
This dog food is another one of Blue Buffalo Brand's great mixtures. It is oriented to fit best for those of your Beagles that are a little on the chunkier side. This food blend is protein packed as well with a great chicken flavor.
This blend also contains some complex carbohydrates to help with your Beagle's energy needs. Another great component of this food is the included glucosamine and chondroitin to help protect your Beagle's joint pain.
It is a recipe full of all of the nutrients your dog will need, especially to work on getting rid of some of the unhealthy extra weight. Along with this, it has a great taste that your dog will love.
Like I mentioned earlier with the other blend of Blue Buffalo Brand, this product is completely made in the USA and is priced well for great quality food.
Nutro Lite and Weight Management Dog Food
This great brand of dog food is specifically made to help those chunkier dogs to lose a bit of weight and get back in shape. It is packed with lamb as the primary protein source in the food blend. This blend also uses whole brown rice and whole grain oatmeal, both easily digestible types, to provide the carbohydrates that are needed.
This food blend is also made without anything artificial. This includes artificial colors, artificial flavors, or GMO's.
This dog food is completely natural and tastes great for your dogs. It is priced pretty well and is affordable. This brand of food is also completely made and manufactured in the USA.
This great weight loss dog food is great for your dog's needs and reasonably priced, making it an ideal brand and blend of dog food to provide proper nutrients while helping a chunky dog get vack in shape.
Taste of the Wild Pacific Stream Grain-Free Dry Dog Food
The Taste of the Wild brand dog food ranks up there with the Blue Buffalo brand food in ratings and purchase rates. This Wild Pacific Stream Grain-Free blend is a great one for dogs, like the other blend I mentioned earlier.
This blend has its main, high packed protein source of Salmon and Ocean Fish meal, providing plenty of nutrients for your pooch. This blend also contains the sweet potatoes, potatoes, and peas like I mentioned in the other blend as a great source of healthy carbohydrates.
This blend is great for beagles with sensitive skin, allergies, or sensitive stomachs because it is made without a lot of the ingredients that cause itching and bloat in dogs. This brand, as I stated earlier, is priced decently well and made in the US.
Wellness CORE Grain-Free Small Breed Dry Dog Food
This Wellness CORE Grain-Free small dog blend of food is another great one. It is another brand that focuses on the ancestral diet of very natural and basic ingredients to provide the best nutrition. This dog food's main protein source is poultry, such as turkey and chicken.
Its carbohydrate source is from potatoes and peas which are great ingredients. This blend is super similar to the Taste of the Wild brand stuff. This blend is also completely gluten-free!
The Wellness CORE Grain-Free blend is great for your dog's digestive system due to it's all natural, ancestral ingredients and proper nutrition. This dog food is a little pricey, like all of the good dog food brands happen to be, but is actually the same great quality as the Taste of the Wild brand, but cheaper!
What Are Some "Human Food" Snacks I Can Treat My Beagle With?
We all love to sneak a little bit of human food as treats to our dogs, whether we admit to it or not. I mean, it's all natural and healthy food, right? what's the problem? well, aside from making sure you don't feed your dog something that is bad for them, it's not all that bad as long as it is done in moderation. Just make sure your veterinarian approves of the treats that you sneak your dog because Doc. always knows best in these cases.
So, now that we have admitted to the bad habit that we all do but keep secret, what are some good treats that we can give our dog that is human food but still good for the dogs to eat?
Peanut Butter
This is always a go-to treat for dog owners of all types. Dogs love peanut butter! And so do humans, so why wouldn't we want to help our pups indulge too, right? Plus, there are plenty of ways to help your dog indulge in this.
One thing you will have to make sure you pay attention to before feeding your dog peanut butter, however, is whether or not the jar you own contains any xylitol in the ingredients. This substance is super poisonous for your dog and should not be fed to your four-legged friend. Before feeding your dog peanut butter, make sure that the jar you are using does not contain any xylitol.
Popcorn
Popcorn is a great, lightweight snack for both people and our four-legged companions. It is buttery, not super filling, and you can never go wrong with it! Throwing the occasional piece like you would a dog treat for your pup to catch is always super fun while being super yummy!
Meat Chunks
Meat chunks you can never go wrong with either, as long as it is in very small amounts so that your dog doesn't choke or get sick. Meat is yummy and delicious and what your dog's ancestors ate too. Small chunks of a steak or fish you cooked for dinner are great.
Leftover meats work great too. As long as it is cooked, it is delicious and pretty safe. (Again, I would consult a veterinarian to seek their professional opinion on your dog's individual case)
Those were just a couple of my favorite snacks I like giving my dog sometimes, but there are plenty more possibilities! I would strongly urge you, though, to keep these snacking habits in strict moderation because too much of this snacking can make your dog super sick.
Also, make sure you consult a veterinarian to check which snacks are best for your dog and which ones might not be the best. Reactions to some foods and even serving sizes can vary by individual cases.
Related Questions:
How many times a day should a beagle eat?
A Beagle should eat anywhere from 1-3 times a day. You can get a more definite answer from your veterinarian depending on your dog's health. If your dog does not have a problem with overeating, you can just free-feed them. However, if your dog does have a hard time controlling their eating habits, then it is better to have a set feeding schedule and measurements.
How much exercise does a Beagle need?
Your Beagle should be walked for 20-40 minutes once or twice a week. You should make the exercise a little intense provide the best result. Workouts should be shorter as well. If you keep up with this easy "workout" schedule for your dog and play with them lots, they should be as healthy, happy, and fit as can be.