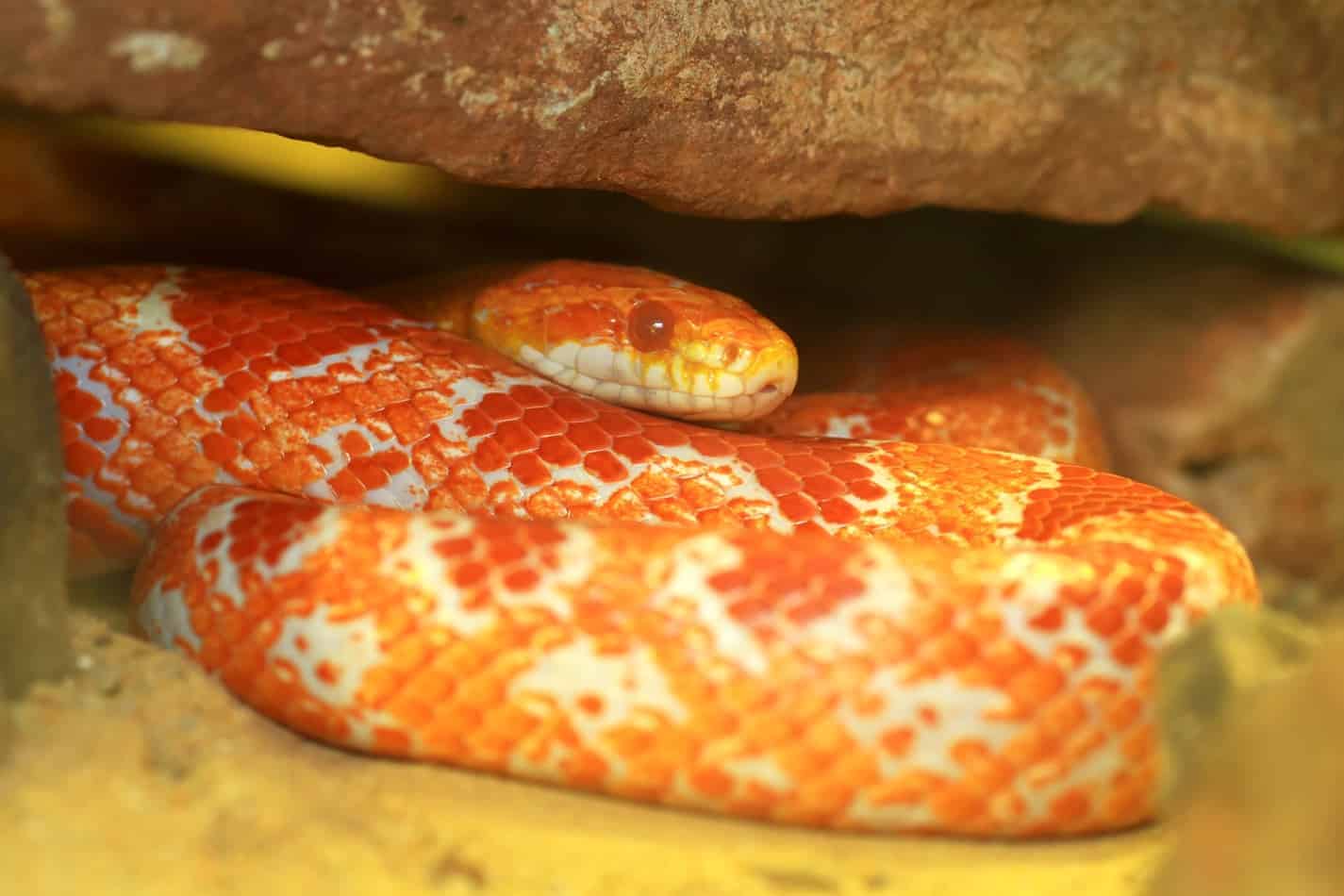 The temperament of a snake is an important factor that every snake owner should know before investing in a corn snake. After some research, I found great information to help you learn more about the beautiful corn snake's behavior and mannerisms.
What's the temperament of a corn snake? Known as "low-key snakes," corn snakes are generally docile pets that are easily manageable and don't mind being held once adjusted to their owner(s). This behavior makes them great pets.
Corn snakes are a perfect size and extremely easy to handle. These are just a couple of the reasons as to why these snakes are one of the most desired and common snakes that are adopted into the North American home. Many who are contemplating adding the corn snake to their family may wonder what the temperament of the corn snake species is and if it is child-friendly or not.
Corn Snake Temperament as Pets
If you are the type of pet owner that prefers to care but watch at a distance, then the corn snake may not be right for you. Corn snakes are a type of pet that involves daily handling by its owner. If you are the type of pet owner that enjoys holding and playing with your pets then the corn snake is right for you.
Owning a corn snake consists of a lot of physical handling. While described as "feisty" and "flighty" at first, once used to the handling of their owner they became "calm" and "docile".
If you are still interested in having a pet corn snake, it is recommended that a beginner snake owner adopt a hatchling corn snake, rather than a corn snake caught in the wild.
Why? While hatchlings born into the owners family automatically must know comfort, an environmentally adopted corn snake may take longer to adjust to its new owner. It may get defensive and aggressive before turning docile, unlike its hatchling counterpart. Here, you can read an article that we wrote where we give 10 pros and cons of having a corn snake as a pet.
How Can I Acclimate My Corn Snake so it Stays Docile?
Some corn snake owners report that at first, their pet would be slightly aggressive with them, especially if rescued from a wild environment. Like most new pets, the snake will just need time around people in its new habitat to calm back down.
In order to best acclimate your pet snake, it is recommended that you orient them with your smell. Once they know your smell, they will grow accustomed and will decrease the desire to treat you like a potential meal.
It should be noted that hatchlings born into your care better acclimate than those adopted from a wild environment. As stated before, handling your corn snake often to orientate them with yourself is a very good idea.
If you're having a hard time taming or calming your corn snake, read this article that we wrote where we give tips on how to do so successfully.
Do Corn Snakes Have a Good Temperament with Kids?
Corn snakes have been labeled as the friendliest snake and a good family pet. This is due to their naturally non-aggressive behavior. They are ideal because they will only be aggressive when threatened and/or provoked. (So keep your restless little boys at a far distance…I know how it goes.)
Because they are so non-aggressive this means that they can easily be handled by children, big or small, with a surety that they will not be bitten. So long as they are treating the snake correctly there'll be no problem.
Corn snakes are just as curious about you and your children as you are of it. This can lead to a wonderful bond of trust between you and your pet when everything is done properly.
How Much Work do I Need to Put in with a Corn Snake?
One of the most wonderful things about the corn snake species is that they are very low-maintenance and extremely easy to care for. Corn snakes that are on the younger side only need to be fed once a week while matured corn snakes only need to be fed once every ten to fourteen days.
The food that they mainly eat is defrosted, pre-killed prey, usually appropriately sized rodents like mice. When dealing with snake hatchlings it is stated that you should start out with newborn mice and as they grow into adulthood, feed them jumbo size mice.
If you are not comfortable with feeding your snake other animals, that is okay! There are plenty of other snakes that do not need to be fed mice. You can find them listed in the article here.
While corn snakes hatch at only the small size of eight to twelve inches long, once they reach maturity that could grow up to between four and five and a half feet! Size is also a reason why people love corn snakes, while born small they are always at a size where handling is always fun and genuine.
What Type of Living Space Does My Corn Snake Need?
Corn snakes grow into very large reptiles so it is obvious of the need for a larger living space. It should be noted though that for the first few months of their lives, your corn snake only needs to live in an enclosure only the size of a shoe box.
As your corn snake starts to grow to maturity it will need an upgrade to an enclosure of at least twenty gallons, but as they say the bigger the better. It is important that your snake has plenty of room and does not feel cramped. Here, you can read an article that we wrote where we talk about the recommended terrarium size for corn snakes, along with how to take care of the terrarium and keep it secure.
If you are thinking of getting your snake a "friend", be warned. Purchasing another snake may not be the best course of action due to the stress it will put upon the first snake of sharing the space.
When it comes to what you need to put inside your pet snake's enclosure, climbing branches are recommended as well damp mossy items. Also, water is essential to keep in your snake's enclosure at all times.
I would also recommend keeping your snake's living area near a window so they can adjust to the day and night cycles. Be sure to watch the temperature of your corn snake's habitation because it soon can become lethal (around eighty-five degrees is the correct temperature).
Related Questions
Are corn snakes poisonous? Not only are corn snakes not poisonous, but they also live up to their well-mannered reputation well. Corn snakes are not poisonous nor are they harmful to humans.
Do corn snakes bite people? It is extremely rare for a corn snake to bite someone as a pet. Like a dog or a cat or any creature with a mouth, there is always a chance of being bitten. If you are bitten by a corn snake it will most likely be as a hatchling with their small teeth and is nothing to worry about.