Who doesn't love a Corgi, right? They are cute, cuddly, and lots of fun. 
Whether it is your first or your third Corgi, it is very important to know what products to select for when you welcome them into your home.
Products change from year to year and what was popular or a must-have may not be so this year.
What do I need to buy for my Corgi?
If you're outfitting your home for a Corgi, you'll need a collar, a harness, and a crate. You'll also want at least one dog bed and a dog bowl for your Corgi as well. And, while chew toys may seem nonessential, for Corgis, you're going to need several heavy-duty chew toys, too.
So, this product roundup will help new Corgi owners or those who have had this breed before pick the best products for their new family members.
Here are some great online choices for that cuddle new fur baby without further ado! Cheers to a New Year with a new puppy!
Corgi Product Roundup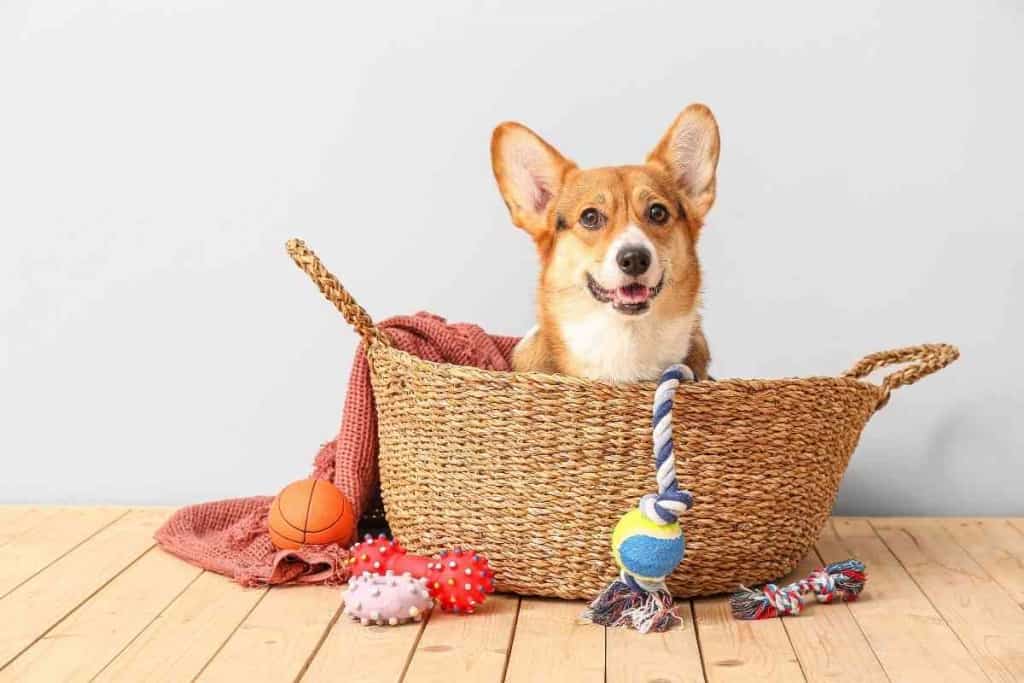 What size collar for a Corgi?
The perfect size collar for your Corgi will fit snug but not too tight. The collar should fit comfortably where they can't be hurt or slip out of it during a walk.
Black Rhino – Comfortable Collar
This super-soft collar is a perfect fit for all dog breeds, and it comes in a variety of sizes and color patterns. 
Its price point is reasonable, making it possible for most pet parents to order more than one, so they have a spare.
Weatherproof, padded, durable, but lightweight this collar is made of quality materials.
It is made strong and designed to last while having reflective stitching to keep your dog safe while you are out on your many adventures.
Your Corgi's neck size is usually between fourteen and sixteen inches, which would mean you will need to order a small or medium-sized collar.
Measuring around your Corgi's neck is important as not all dogs fall into this category, and some may be different.
What size harnesses for a Corgi?
The right size harness for your Corgi will fit securely without being restrictive. Using a collar isn't for everyone as they can sometimes hurt a dog's neck, regardless of breed.
Choosing a harness versus a collar can be a great way to keep your Corgi under control while they are learning the ropes of walking on a leash.
Harnesses are designed to offer control without injury when worn properly.
Auth Tactical Dog Harness
This dog harness is a bit pricier but well deserving of that price tag. 
The harness comes in various colors to choose from and is easily adjustable and very easy to use.
This harness is designed for maximum control and safety for you and your dog and is durable, made of lasting materials.
The harness is good for dogs in training but can benefit any dog and their pet parent.
Your Corgi will fit into a small or medium-sized harness, but they should be measured first as not all will fit into the same size range.
What size crate do you need for a Corgi?
A good size crate for your Corgi is comfortable but not too big. Selecting the right crate for your dog is highly important when crate training.
Dogs need a space where they can be comfortable, but the crate shouldn't be so big that they have room to use it as a bathroom while mom and dad are away.
New World Pet Products – Folding Metal Dog Crate
This dog crate is reasonably priced and easily assembles and disassembles for convenient storage and movement when needed.
It comes in both a single and double door style for pet parents who want a larger opening for their Corgi to enjoy movement in and out of the crate.
This crate is durable and made of strong metal materials, making it built to last for many years to come with proper care.
The right size crate for a Corgi which is usually around thirty pounds as an adult, is a thirty-inch crate. If your dog is on the smaller side, around twenty-five pounds, the twenty-four-inch crate will fit them nicely.
What size dog bed for a Corgi?
The right size dog bed for your Corgi will offer enough room to move around without you tripping over it. Choosing the right dog bed is one of a dog owner's easiest tasks.
Aside from allowing your cute Corgi to snuggle with you on your bed and the furniture, a bed provides a place that the Corgi knows is just for them.
Furhaven Pet Beds
This cuddle soft pet bed is perfect, with a reasonable price, numerous colors, and styles to choose from, and a pet-friendly design.
Super soft materials make it comfy and inviting to every dog.
At the same time, it's easy to care for with a washable fabric so pet parents can rest assured it can be easily cleaned whenever necessary.
The right-sized dog bed for your Corgi will be a medium, but let's face it, they aren't going to complain if you get them a large so they can squirrel away a few toys or treats!
What size dog bowl for a Corgi?
The perfect size dog bowl for your Corgi will allow them to eat comfortably. When we think of dog bowls, we may not look at style as much as functionality. After all, they are eating and drinking out of them.
Therefore we may not put much thought into it like our fine china. However, selecting the right dog bowls is crucial as it can increase or reduce neck strain depending on the style chosen.
Neater Feeder Express Elevated Dog Bowls
These bowls make for less mess while your Corgi is having their meals. Their design makes cleanup easier with stainless steel bowls.
There are a few color choices to choose from, making it easy to color coordinate with your kitchen or dining room area.
Corgis are small to medium-sized dogs, so they won't necessarily need a raised set of dog bowls, but having one sure is a nice perk for senior or older dogs.
What size Kong for a Corgi?
The correct size Kong for your Corgi is one they can easily enjoy without struggling to have fun. Your Corgi will need toys for fun and mental stimulation, so selecting the best you can afford is highly important.
Kong toys are a top choice amongst dog owners everywhere because they both amuse and provide mental stimulation for your dog.
Kong Stuff-a-Ball Toy
Kong offers various toys to choose from, each designed for a specific purpose, such as teething or fun. 
This particular toy offers a great hideout for treats so the Corgi can find them while getting their teeth cleaned.
Choosing the medium size will be best for a Corgi. You will probably have a hard time choosing just one when you see how much fun and enjoyment your Corgi gets from this toy.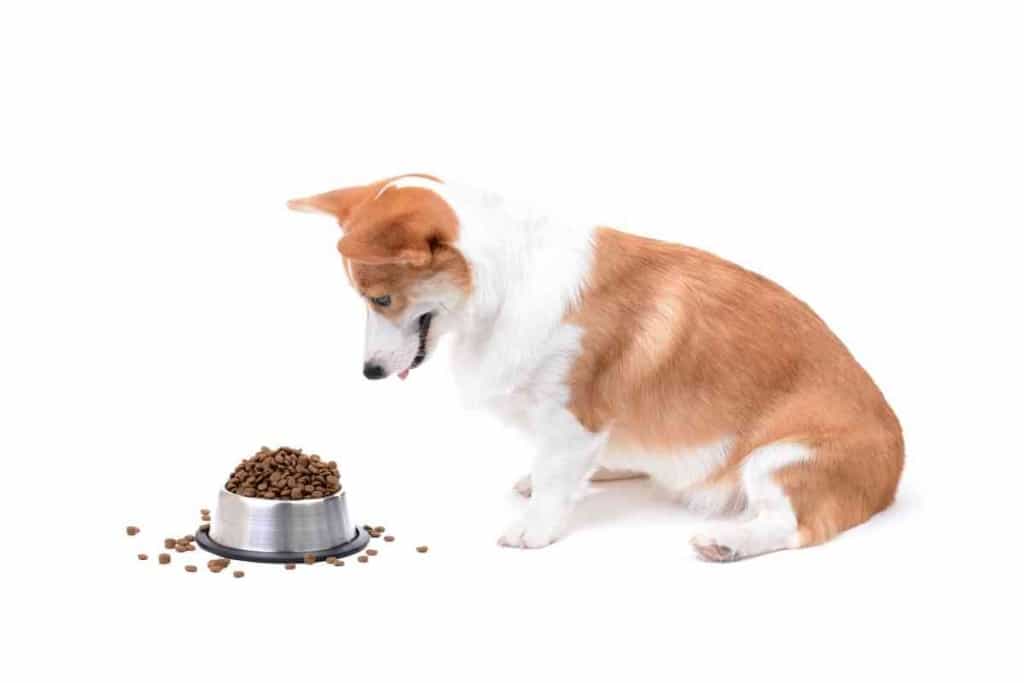 Final Thoughts
Picking the best products for your new dog and knowing the right size can be challenging for new pet parents.
Seasoned pet parents may have already been down this road but find it hard to choose with all the new products out there.
In most cases, the process is enjoyable for both the new and seasoned Corgi owner and their dog.
After all, shopping and selecting products for your new fur baby has never been easier, thanks to the internet and online shopping!