Best Shetland Sheepdog Accessories! Here's What Your Sheltie Needs!
Dog owners have some of the biggest hearts, and most people who see dogs are quite captivated by the Sheltie/ Shetland Sheepdogs. You might even be a new parent to one right now. If so, congratulations!
They are a great breed of dog. If this is your first time owning a sheltie/shetland sheepdog then you might be feeling a bit overwhelmed right now. What size collar should I buy? What size dog bed is big enough but not too big? Do not worry, we will answer your questions when it comes to the right accessory for your puppy.
Let's dive into it!
What size collar should I get for a Sheltie/ Shetland?
When it comes to what size collar you should get for your sheltie/shetland puppy or dog, you will only need 3/8″ wide collars and leashes at least to start!
This is good news because so many different companies offer a large variety of collars for your puppy or dog. They normally range from XS to XL. what size you should get would depend on the size of your Sheltie puppy or dog. We would suggest going up a size or up to half a size if your dog is in between sizes. The reason for that is because it is better to have the collar be a bit loose so your dog can grow into it, versus it being too small and you risking the chance of choking your dog.
Here is the brand we would recommend: PUPTECK Basic Nylon Dog Collar Designer Solid Adjustable Puppy Pet Fancy Collars with ID Tag.
We love this collar because it comes in an array of different colors and sizes. It is also quite affordable at $10.99! If you have an Amazon Prime membership then shipping is free for you.
Top positive review:

Be aware this is a tiny collar. I didn't realize how small it was. At its maximum size, it barely fits my 9-week rottweiler puppy can hardly fit two fingers in it. It is Good quality just be aware it is super tiny. Waste of money unless you have a chihuahua. The picture on my chess table shows the maximum size.

Top critical review:

This collar is well made for tiny puppies, perhaps the size of a chihuahua. My 11 week old Joey's neck is within the size range and it would have strangled him had I attempted to try it on. The cost to return wasn't worth the value of this product. Mega disappointment.
What size harness should I get for a Sheltie/ Shetland?
When it comes to harnesses, you have to measure your sheltie to see what would fit him/her. We would just recommend a harness that is padded for extra comfort.
Here is the brand we would recommend: rabbitgoo Dog Harness, No-Pull Pet Harness with 2 Leash Clips, Adjustable Soft Padded Dog Vest, Reflective No-Choke Pet Oxford Vest with Easy Control Handle for Large Dogs, Black, L, Chest 20.5-36″
We love these because they come in a lot of colors and sizes. Plus, they're inexpensive.
Top positive review:

Every time we try to take our dog out, he always wants to run and pull constantly, even though choking himself! I was very skeptical about a no-pull harness; I wasn't sure how the placement of where the leash attaches would do anything.

Top critical review:

My dog is a 66lb heeler/lab-pit mix and can pull hard when she's overly anxious or excited. After a little over a week, the top hook material started fraying and the fabric seems weak. Also, even though the harness was as tight as it could be around my dog, without cutting into her skin, she was able to pull back and wriggle loose, OUT of the harness!
What size crate do I need for a Sheltie/ Shetland?
When it comes to what size crate you should get, it depends on how big your sheltie dog or puppy is. We would highly recommend going with a medium-size crate, around 30″ to start with. It is a good size for a small puppy because you add their bed inside the crate to fill it up or you can even add some toys and treats. For bigger sheltie dogs, it is big enough for them to feel comfortable in.
Here is the brand we would recommend: Ovation Folding Dog Crate | Dog Crate Features Space-Saving Overhead "Garage" Style Door & Comes Fully Equipped w/ Replacement Tray, Divider Panel & Floor Protecting Roller Feet
We love this crate because it is affordable, and also well made. There are plenty of sizes to choose from as well!
Top positive review:

This showed up yesterday to replace the kennel my girlfriend purchased. Both were labeled as XL, but our Samoyed quickly outgrew the other kennel since it was only 36″ long (and nowhere near tall enough) compared to the Midwest LX Kennel that was 42″ long I believe. The quality is also far superior to the kennel we had prior. Not only was the previous kennel too small, but it was also made poorly and at about 5 months old we had to start using a carabiner to keep our puppy from bending the metal to open the door. I don't see that ever happening with the Midwest kennel since it is far superior in its construction and design. Highly recommend this over some of the competition, and at the very least, check the actual dimensions… all manufacturers do not use the same sizes.

Top critical review:

We had a completely unexpected pup fall into our care over the holidays. Our 7yo girls no longer used a crate and theirs we had in storage were a bit worn. So we picked up this one as both a new crate for the pup and to save some family room space with the flip-up gate. The assembly was not too hard though a little more work was required to get it to pop together than with the older wire crates. We knew the new pup wasn't too fond of going into a crate and he'd be unhappy going in but the first time we left him alone in it for more than a few minutes, we came back to find the gate lying inside the crate and he was happily roaming free. Thinking surely we must have not aligned the gate correctly or that the clips that held it together weren't aligned right (the left side as you look at the gate seems more bowed in to reach the clips than the right), I added a few zip ties to hold the seams together.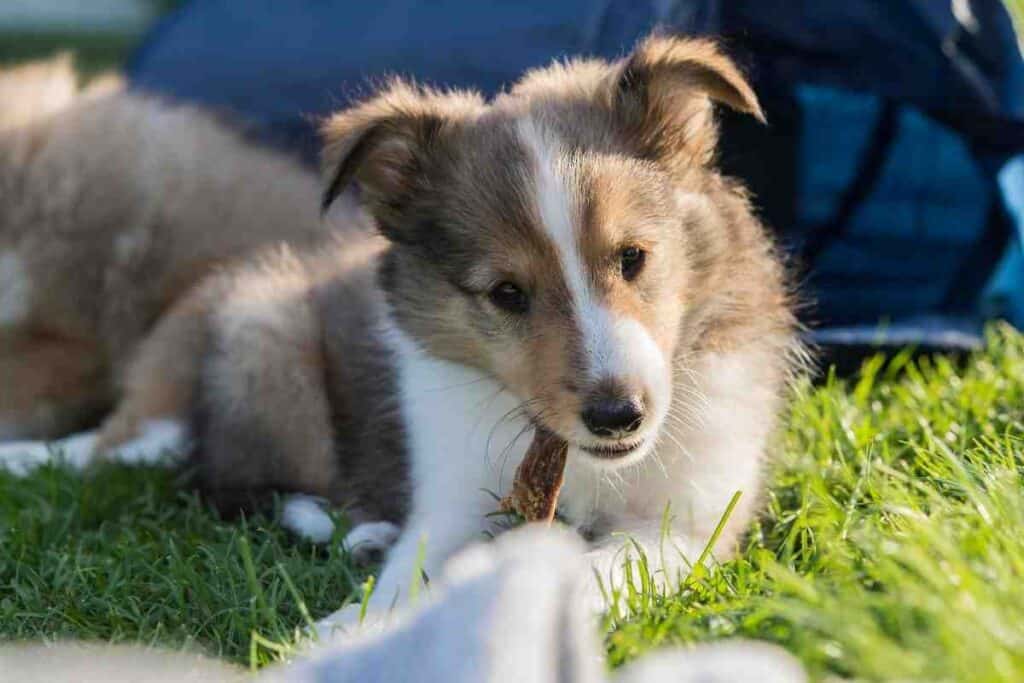 What size dog bed should I get for a Sheltie/ Shetland?
● We would highly recommend a vinyl weaved bed for shelties because of their double, long coat.
Here is the brand we would recommend: Kuranda Dog Bed – Chewproof Design – Almond PVC – Indoor/Outdoor – Elevated – High Strength PVC – Easy to Clean – Water Proof – Breathability – Vinyl Weave Fabric
We love it because it comes in five different sizes and four different colors. There are a shade and size for everyone! Plus, it is great for dogs that love to bite and teething puppies.
Top positive review:

If you have a large breed dog, a senior dog, a puppy that chews and won't stop growing, LOOK NO FURTHER! This bed is worth EVERY PENNY!! We purchased this bed in February 2015 for our Senior Labrador (10 years old at the time) to help facilitate his recovery from a vicious multiple coyote attack.

Top critical review:

Was hoping our 6 1/2-year-old dogs ( German Shepherd mix) would use this bed to get up off the floor (to cool and to help with hips-thought it would be easy on her body rather than laying on the floor). She was not having any part of it. She didn't care for the gift. The only way we could get her on it was to have her "get up, 'lay down, and stay". Of course, treats were included for having her take her place. She wouldn't voluntarily use it and could tell she was uneasy when on it. Ordered a different raised/cooling bed with sides and doesn't have as much give. She likes that one much better. More willing to use.

This product needed two people to finish putting pieces together. Haven't had to clean yet since it isn't used ( maybe our new puppy will use it- for now it is in the basement- other bed w/sides is being used). Can't comment on whether or not it is chew proof either due to lack of use.
What size dog bowl for a Sheltie/ Shetland?
This highly depends on the size of your dog. We would recommend getting an adjustable bowl set for food and water.
Here is the brand we would recommend: Pet Zone Designer Diner ADJUSTABLE Elevated Dog Bowls – Adjusts To 3 Heights, 2.75", 8″, & 12" (Raised Dog Dish with Double Stainless Steel Bowls)
We love these because they come in three fun colors and they are super affordable.
Top positive review:

It will feel slightly flimsy at first, but it just takes putting it against the wall and you have yourself an awesome product! As you can see, my Finn loves it! He drinks A LOT of water throughout that day and now I don't have to fill his bowl every hour or two. Also, he tends to spill more water than he drinks, and with the bigger bowl and the stand, I no longer have water all over my floors! Would buy it again for sure!

Top critical review:

Nice stand and works great for my 75lb Lab. Bowls are a good size but not as heavy-duty as they could be. The stand is sturdy enough and he does not push it around. I don't see him knocking it over. Is smaller than I thought I would be, but honestly, it works as intended. Looks nicer than the ones at the pet stores.
What size kong toy should I get for a Sheltie/ Shetland?
For a kong toy, it depends on the size of your sheltie.
Here is the brand we would recommend: KONG – Classic Dog Toy – Durable Natural Rubber – Fun to Chew, Chase and Fetch
You can't go wrong with the classic KONG! We would recommend going a size bigger. There have been horror stories about dog's tongues getting caught in too-small KONG toys.
Top positive review:

These are the world's best dog toys! It's a perfect slow feeder for dogs who bolt their food. It can be used with wet food, dry kibble, or a mixture of both. Stick it in the refrigerator or freezer to get a nice cooling effect for sore gums in teething puppies. It is a stimulating, problem solving the puzzle for bored dogs, especially high energy dogs that always need something to do. They also work as a nice bouncy ball for fetching.

Top critical review:

We've had GREAT luck with past KONGS. Never a durability issue. The reason we keep ordering more is our dog loses (drops them while sniffing other things) them in the nearby woods. The most recent one we ordered was chewed up in less than a day! His older ones have made it years! What gives?
Do not Worry, You Got this!
Look, we understand how scared you must be, especially if this is your first time taking care of a puppy. A puppy is so much like a child and if you are first-time parents then well…a lot of questions could be buzzing through your mind right now. The first one might be, "Can I do this?" The answer is, yes!
We hope that these answers helped alleviate your stress. Just know that these products are super affordable and easy to find. Watch out for daily Amazon Prime deals as well for sales and coupons!