Buyer's Guide: Large Terrariums Under $100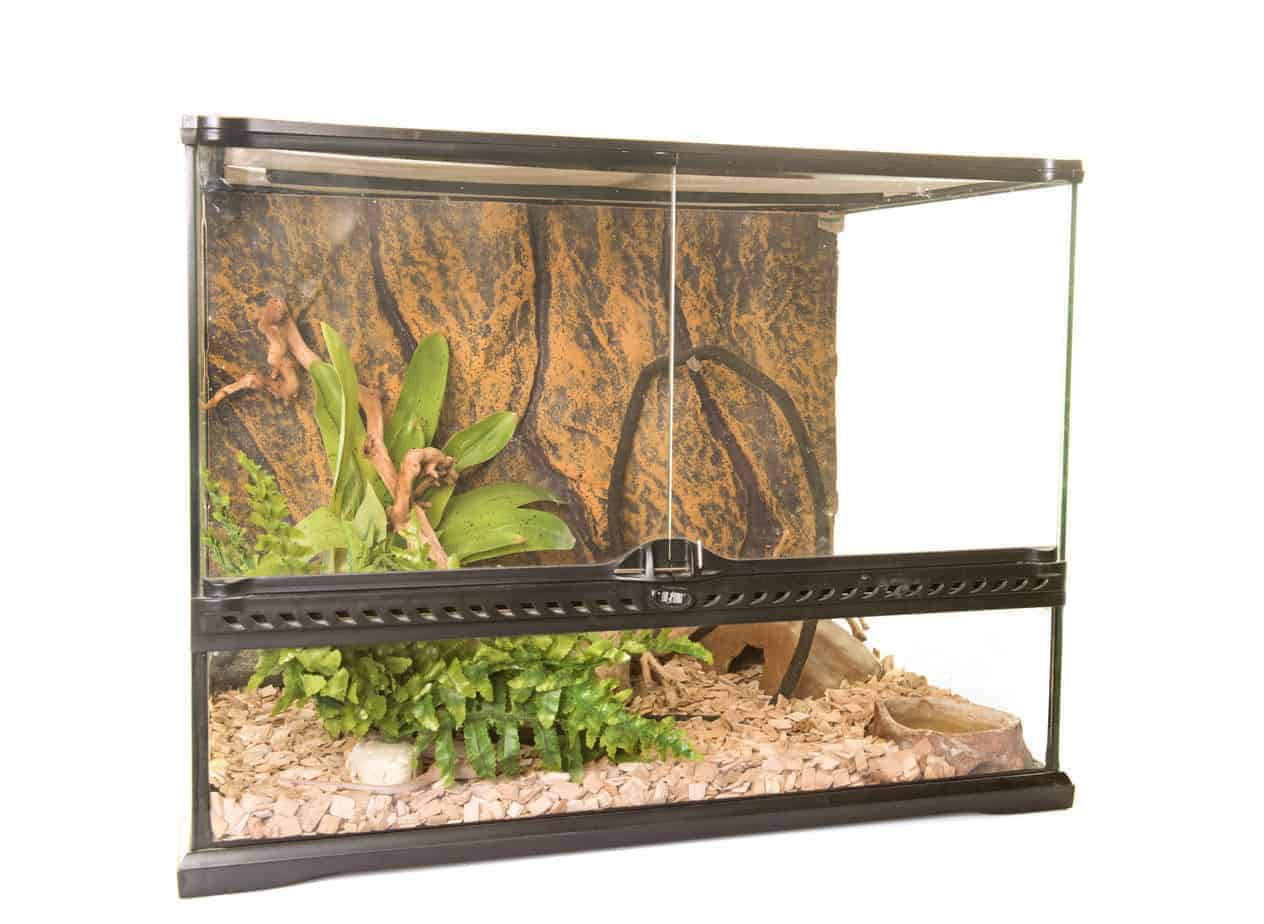 When getting a pet snake, there are a lot of things you need to consider before building its habitat. One of the first things you will need to get started is a terrarium. But, with so many different options out there, it can be hard to know which terrarium is a good fit for your snake. Luckily, I've done the research and put together a large terrarium buyer's guide for those of you looking to spend under $100.
Now, if you aren't looking to spend a lot of money, you might run into some problems when purchasing snake terrariums, especially online. Online, most of the snake terrariums are upwards of $100, and it's hard to tell if they will be big enough for your snake. I have found a few options under $100, but I will also talk about other options of where you can go to buy a terrarium later on in the article.
I've organized the headings by online shopping locations such as PetSmart, Petco, Amazon, and other pet store websites that way you can know all the terrarium options available at a specific store.
If you are new to buying snakes and don't know what to look for in a terrarium, there is another article on our website called "Buyer's Guide: Best Enclosures for Ball Pythons" that will help you understand the basic things to look for when buying a terrarium.
Terrariums at PetSmart
All Things Living Reptile Terrarium: $69.99
This terrarium isn't quite as large as its bigger $114.99 counterpart from the same company. The more expensive cage is a better fit for a larger snake like a Ball Python, but if you are looking for a comfortably large terrarium for a smaller snake, then this option is perfect for you.
You can find the product here on PetSmart's website.
This terrarium is made of glass and has a mesh top with a locking mechanism to keep you snake safe. Having a locking mechanism is key because you don't want your snake escaping. It is built to house desert and tropical reptiles, and its sleek style makes it an attractive option to keep in your home.
Overall, the terrarium has a high customer review rating, and several reviews boast how good it is at housing their snake. In the question section, a few customers ask how many gallons each size of tank holds. The smaller tank that I am reviewing is 20 gallons in size, but the more expensive tank is 40 gallons.
So, this is a good option for you if you are looking for a basic tank. On our site, there are several other articles that can help you determine what size of tank you need for your particular snake. Look for the articles about your specific snake, and browse through a couple to see if you can find out how big of a tank they need.
Buying a Terrarium at Your Local Pet Store
If you want to find a terrarium for under $100, this is your best option. Online options are often limited because of the small demand for buying terrariums online, but your local pet store will not only have a variety of options, but they will also have a range of prices to choose from. For example, when I was researching different options online, I kept coming across options that were only available in stores. This includes the commercial pet stores like PetSmart and Petco.
Now, if you aren't looking to spend a lot of money, you might run into some problems when purchasing snake terrariums, especially online. Online, most of the snake terrariums are upwards of $100, and it's hard to tell if they will be big enough for your snake.
Also, some local pet stores may not have online stores you can go to and buy from. You can find local pet stores through google searches or phone books.
Another advantage of shopping for terrariums at a local pet store is that there will be employees that can potentially help you know what kind of terrarium will be the best fit for your snake. You will also be able to purchase substrate, climbing furniture, a water bowl, hiding structures, and other necessary items to make your snake comfortable in their new home.
Terrariums Over $100
Since most online terrariums are relatively expensive, I thought I would include a few different options for you to explore if you have a little leeway in your budget. I tried to keep the options under $300 to stay within the range of the article material. So, here are a few different options:
Exo Terra Large Tall Terrarium: $255.99
This cage is also on the more expensive side, but it is plenty large and will be great for medium sized snakes who need a lot of room. You can check it out here on Petco's website.
This spacious glass terrarium includes dual doors to prevent escape, and front window ventilation. Another bonus feature is it's waterproof base which comes in handy for water spills and snake urine.
The majority of reviews for this product are in the 5 star category with only one review being a 3. Most of the reviews talk about how the tank provides ample room for their snakes and habitat furniture.
Since the tank also comes with a storage base where you can store snake materials and hide electrical chords used for a cage light, it is rather large. If you are looking for a simple glass terrarium, this may not be the right choice for you, but if you would appreciate the extra storage space, this is a great option.
Carolina Custom Cages Terrarium Large: $249.99
On Amazon, there are limited options under $100 that are a suitable size for a larger snake, but here is a more pricey option that will guarantee your snake is comfortable.
This cage has a comfortably large dimension that will give your snake plenty of room to live. the large space also means that you will have enough room to include items necessary for your snake like substrate, hiding and climbing furniture, and a water bowl.
The cage also includes key locked glass doors, which is really important, especially if you have small children around. This terrarium also promises secure packing so that when it ships, it will arrive to you in good condition.
The majority of the reviews for this product are between 4 and 5 stars on Amazon, and several of the reviews show the cage being used by customers for various reptiles. This cage is good for snakes and a number of other reptiles.
Buying Used Terrariums
Another option if you're looking to save money is to look on Facebook garage sale pages, eBay, craigslist, and other sites where second hand products are sold. It is not guaranteed you will find anything, but it is a good option to research. However, you should always inspect the product before you buy it. Be sure that there are no cracks in the glass and that it is secure so your snake can't escape.
Related Questions
What size tank do you need for a Ball Python? Ball Python's need a comfortably large habitat made of glass. For adult Ball Pythons, a 30-40 gallon tank will make the best comfortably sized habitat. But, a baby Ball Python won't need a large cage till it begins to grow larger.
What do you line the bottom of a snake cage with? Substrate, the material you line the bottom of a snake cage with, can be made of a few different materials. Newspaper is a cheap but unattractive option, while specific wood shavings are a better option. However, not all woodshaving options are good for snakes, so you should research your specific snake's needs.
What do you clean a snake cage with? The best thing to clean a snake cage with is hot water and soap. A snake specific cleaner can be used on hard to clean spots, but hot soap and water should work fine.