Yorkies, Everything You Need To Bring Home Your New Yorkie!
Bringing a Yorkie puppy home is a great addition to any family. They are a small puppy so you will not need to worry about them taking over your home or not having enough space. They are feisty and friendly, they like to play, and they are hypoallergenic. While you do need to play with them and take them on some walks, they will not need vigorous amounts of exercise at all.
Yorkie puppies are easy to get along with, but since they are so small, it is important to pick one that is the right size for the puppy when it comes to their collar, harness, bed, and even dog bowl. In this article, we are going to take a closer look to see what sizes are the best for this small little puppy so you can purchase the right things and help your puppy feel right at home.
What Size Collar for a Yorkie Puppy?
A collar is very important for your Yorkie puppy, especially if you have not had a chance to get them chipped yet. This could be the only way that someone can return your puppy to you if the puppy happens to get out of your yard or home. A collar is a good way to keep identification on your puppy to keep them safe.
There are many collars to choose from. But since there are lots of big dogs and little dogs, knowing the right size is important. You will want to go with a collar that is not too thick, usually about 1.5 inches thick, and then choose one that will not hang off their neck when it is closed.
Since the Yorkie puppy is pretty small, they do not need a collar that is very big. You will need to pick out a collar that is small and will not fall off their neck. For a puppy, a collar that is an XX small is a good option, though some pet owners like to go with an X small that adjusts to give the puppy room to grow. This Blueberry Pet Essential Collar is a great choice for your Yorkie puppy with adjustable bands to grow with them and more than 20 colors to choose from.
What Size Harness for a Yorkie Puppy?
A harness is a great option to provide to your Yorkie. It allows you to maintain control while going on a walk with your Yorkie, without having to worry about pulling on their necks. This can be dangerous no matter what type of dog you are working with, but is so important for the small Yorkie puppy.
For your Yorkie puppy, going with a harness that is X-Small is often the best to make sure they fit in nice and snugly. Depending on how much your Yorkie grows over the years, they may be able to stick with this one for a little longer, though most adult Yorkies will do better with a size Small harness.
If you are looking for a good harness for your Yorkie, this Voyager Harness is one of the best out there. It is designed with a soft and breathable material that can handle all types of weather when you go walking. There are three safety features to make it easy to use with your Yorkie and it is easy to clip on and go when necessary.
What Size Crate Do You Need for a Yorkie?
When you plan to travel with your Yorkie, or if you would like to use crate training to help your Yorkie be comfortable and have their own space when they are nervous about things, then a crate can make a big difference. Crate training is becoming more and more popular because they give the puppy their own little domain within the home and can make them feel safe when adjusting to a new area or when they just need a break.
You want to make sure that the crate is big enough to hold onto the Yorkie without squishing them in there too much. The good news is that since your Yorkie is such a small dog, often considered a toy size dog, there are many crates to choose from. But you also want to be careful about making the crate too big or it will overtake your dog as well.
The best size crate for your Yorkie is about 20 inches in length. This gives them room to move around a little bit and will not cramp them into that small space as much as some of the other choices that may be smaller. This also saves space without having a crate that is too large. A good crate option to consider for your Yorkie is the MidWest Homes for Pets Dog Crate, which provides plenty of room and is designed to hold dogs up to 25 pounds.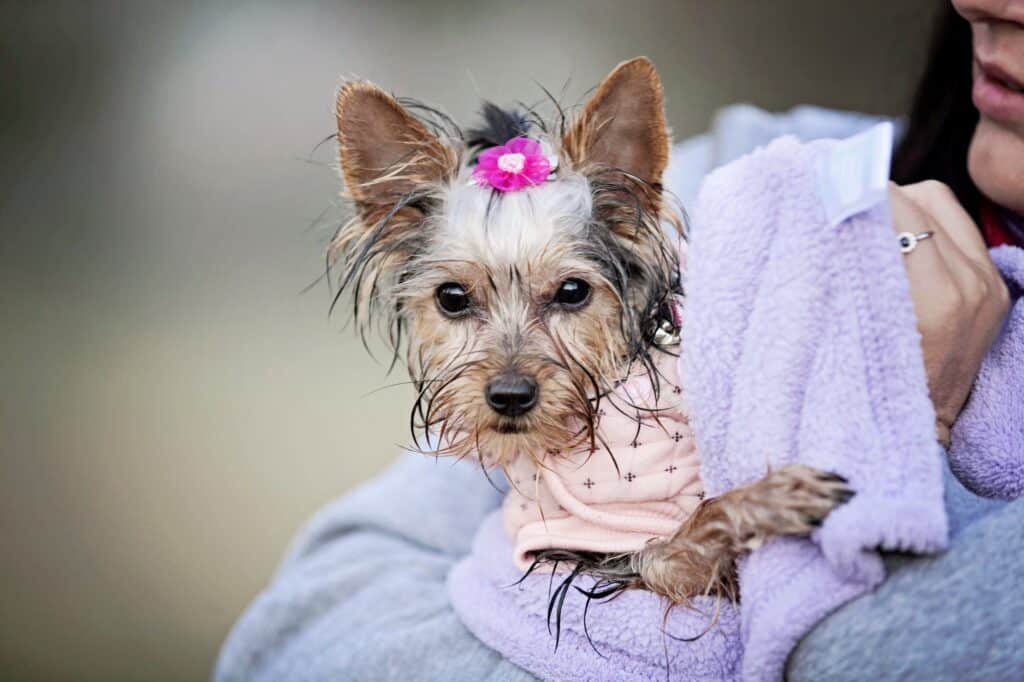 What Size Dog Bed for a Yorkie?
You may even decide to get a little dog bed when you bring your Yorkie home. This can give them a comfortable place to sleep, without giving them all of your bed and having to worry about accidently kicking them in the night. There are a lot of great bed options out there for dogs, but most are going to be too big for your Yorkie.
Since your Yorkie is often going to be close to 15 pounds and rarely any bigger, you need a small dog bed for them to sleep on. The best bed dimension will be around 20" by 30". You can add an insert into the bed as long as it is not too big. If you go with a bed that is much bigger than this, it is likely the Yorkie will get lost inside.
When you are shopping for a good dog bed, it is important to find one that will last and has a lot of options. This Furhaven Pet Dog Bed is the perfect option to go with. It is just the right size, comfortable, and comes in many different colors for your dog.
What Size Dog Bowl for a Yorkie?
When choosing the right dog bowl for your Yorkie, it is normal to get caught up in the different patterns and designs that are on the bowl and how cute each one is. When you go to pick one out though, you may notice that there are different sizes available.
It is best to get the small size dog bowl for your Yorkie. They are very small and will not eat or drink all that much. Getting a larger bowl will not hurt anything if you make sure to measure out the food properly. But it can be a waste of space. Stick with one of the cute little bowls to save on space and to prevent the temptation of overfilling the bowl.
There are many great dog bowls out there to help you take care of your Yorkie. These Vivaglory Dog Bowls provide two bowls (one for water and one for food), that are just 6.5 ounces each. They also come with a skid resistant mat to help keep messes to a minimum when you feed your Yorkie.
What Size Kong for a Yorkie?
Your Yorkie will need a good toy to play with, something that can help them sharpen those teeth and keep busy, no matter where they are during the day. One of the best toys that you can consider to fill both of these needs is the Kong. You can easily add in a tasty treat to the Kong and help your dog get a reward as they work through it all.
There is Puppy Kong that is designed specifically for puppies, including small Yorkies. But there are still different sizes and it is important to pick the one that is right for your dog so they can have fun without getting hurt. For a small Yorkie, it is best to go with the X-small version of the Kong to see how it goes. If you fill it up and they tend to tear it apart, you may want to consider getting another size up so it lasts longer.
The original Kong is designed in many sizes so you are able to choose the one that will work the best for your Yorkie. Always monitor the use of this toy with your dog before you leave them alone to make sure they do not get hurt.
Taking Care of Your Yorkie
When you bring a Yorkie home to your family as a new pet, you are bringing home a feisty little dog that is ready to share all of their love with you. It is important that you prepare the home for your new pet, making sure they have everything they need to be happy and to make themselves at home. With the help of the products recommended in the article above and picking the right sizes, you will be able to take care of your Yorkie in no time!