Does Petco sell service dog vests?
If you have a service dog, you should buy a vest to identify your dog or to work as a pulling harness. Does Petco sell service dog vests?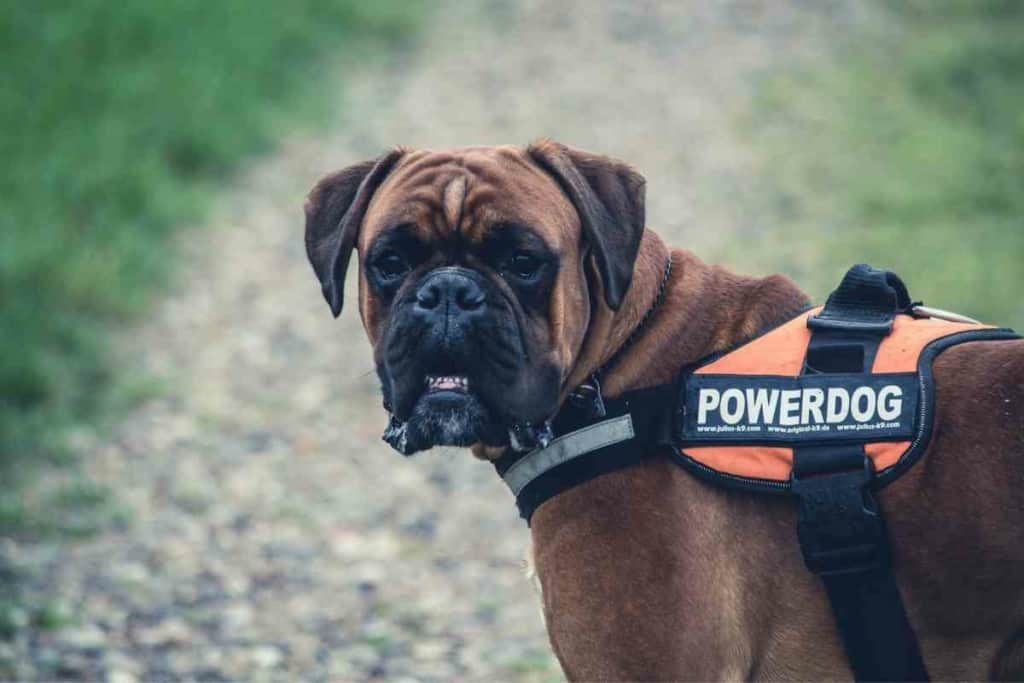 Check out our related articles: Are Pugs Good Services Dogs? And Can Dachshunds be service dogs?
Does Petco Sell Service Dog Vests?
Yes, Petco sells service dog vests, and they have a lot of variety. You can get simple capes that identify your dog or harnesses for pulling people with mobility issues. Petco has more than 1500 locations, plus free shipping for larger orders. 
Petco is a great place to get vests because there is a wide variety of products available. You can get reflective vests that keep your dog safe by making it more visible at night.
I have a service dog because I have a serious peanut allergy and would end up in the hospital if I ate anything with peanuts in it. She can detect a small trace of peanuts in my food. I bought a service vest online from Petco. 
What is Petco?
Petco is a major chain of pet stores in the United States, Puerto Rico, and Mexico. They have more than 1500 locations and have been in business since 1965.
Why Are Vests Important for Service Dogs?
Service dog vests identify that the dog is a service dog. It can cause problems if people assume the service dog is a pet instead.
For example, someone might try to enter a building with a service dog and be denied because people think it is a pet. People associate service dogs with blind people, but many other people need them. Vests also indicate that the dog is presumably well-trained and well-behaved.
Reflective service vests can also protect dogs from danger. Reflective vests make it easy for people driving vehicles to see dogs.
Types of Vests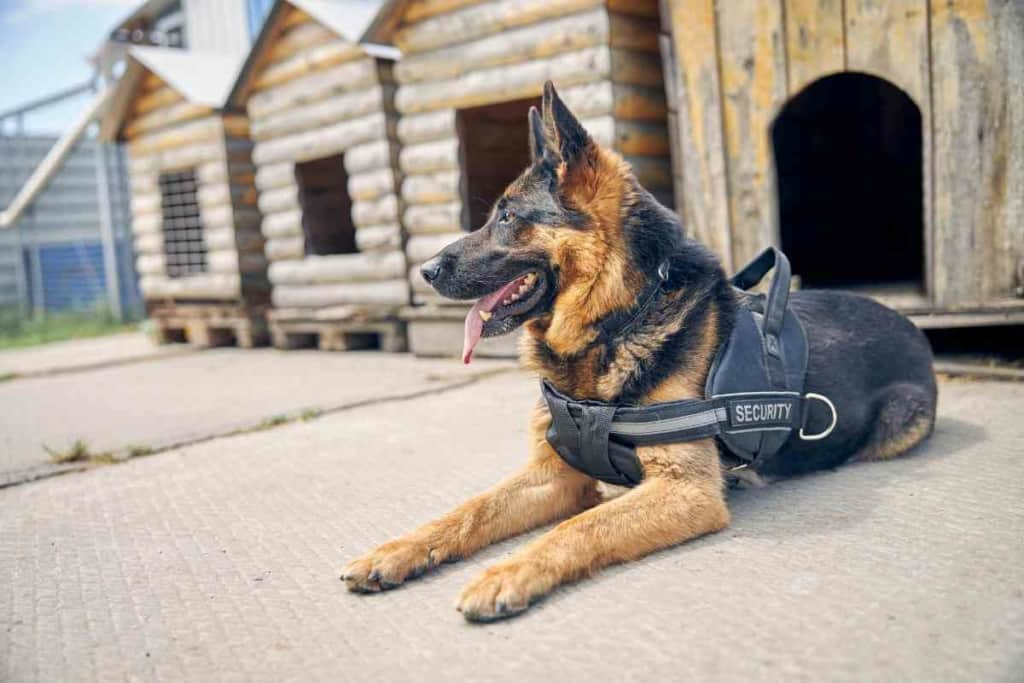 Mobility Support Vests
Mobility support vests are for dogs that help people in wheelchairs or with other mobility issues. With the harness on, the dog can use its weight to help the owner with movement or balance. Make sure you get the right harness because it needs to be comfortable for your dog.
Cape Vests
Cape vests don't work for mobility support, but they can still identify a service dog. They are often worn by service dogs that are still in training. Sometimes, trained service dogs that are already with their owners still wear cape vests.
Cape Harnesses
Cape harnesses are more comfortable than cape vests. They don't always have handles, and they don't always have a ring to attach a pull strap to. They are mostly to identify your service dog.
Pulling Harness
A pulling harness helps your dog pull heavy things, such as a wheelchair or heavy objects. You need a strong dog for these roles. Make sure your dog gets enough rest after pulling anything heavy around.
What Service Dog Vests Does Petco Offer?
Petco offers many types of dog harnesses, including:
Custom dog harnesses
Reflective dog harnesses
Either patterned or solid-colored dog harnesses
Dog harness and leash sets
Dog harnesses with LEDs for maximum visibility
You can also get a pulling harness for working dogs, or a no-pull harness. You can also get a hunting harness or a car harness at Petco. They might not have exactly what you want, but the store offers a wide variety of products.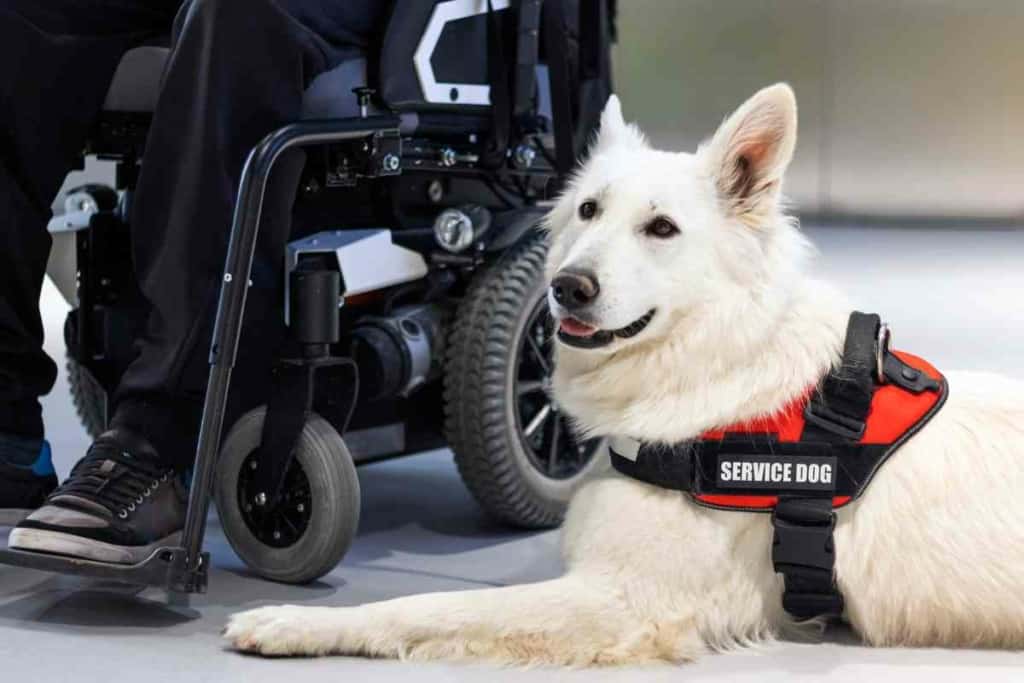 How to Decide On the Right Vest
The vest needs to fit your dog because otherwise, it won't be comfortable. The product should also be well-made and reliable. Find out a little about the product's quality first.
Cost to Ship the Items to Your Location
Thankfully, dog harnesses are not expensive, and neither are their shipping costs. It depends on how far away from their nearest warehouse you are. Same-day delivery is more expensive.
For items that cost more than $35, shipping is often free. You may also save 50% if you pick your item up.
Can You Buy Your Own Service Dog Vest?
Yes, you can buy a service dog vest yourself. You can find them online and they may be available at pet stores.
Can Anyone Buy a Service Dog Vest?
Yes, service dog vests are sold freely online to anyone. Someone could theoretically purchase a service dog vest without having a service dog.
Does Petco Sell Service Dog Patches?
Yes, you can buy service dog patches at your local Petco. Petco also sells them online.
Do Service Dog Vest Colors Mean Anything?
Usually not. It's not like a red service dog vest means one thing and a blue vest means another. Usually, the colors don't mean anything.
However, the colors can mean something sometimes. For example, a purple heart military veteran with a heart condition might have a purple vest for their dog.
Are Vests Required?
No, there is no law saying that a service dog has to have a vest. They do not require any kind of a special harness to identify them.
The Americans With Disabilities Act does not require vests. Possibly, vests might be required in some countries.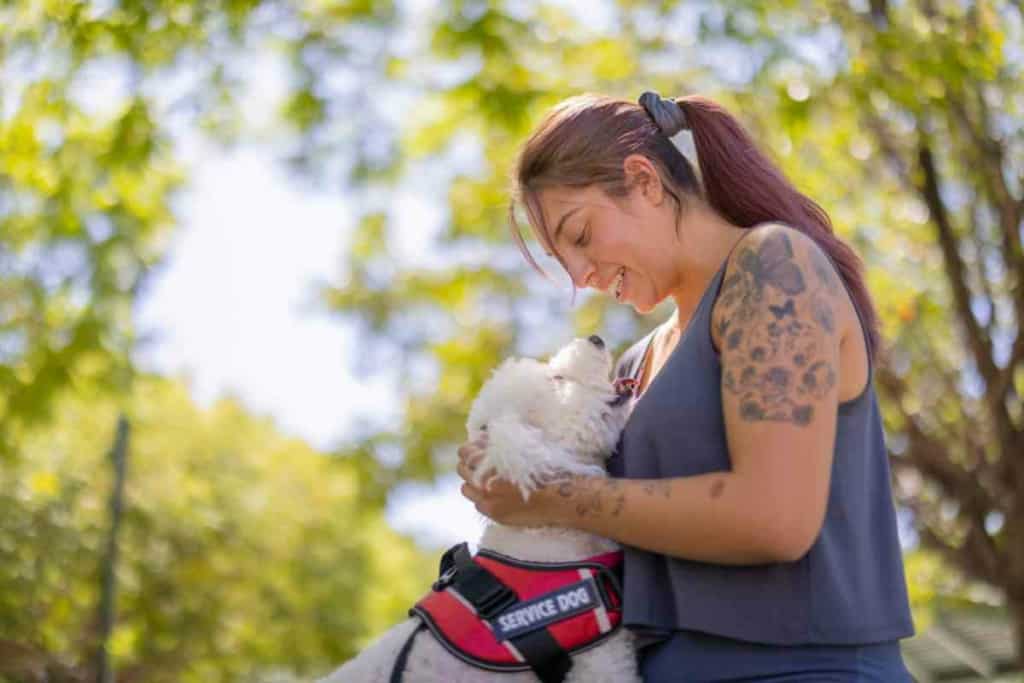 What Are Service Dogs?
Dogs were traditionally workers. This is less common today, but dogs still work with and assist humans.
They can help the blind, or use their sense of smell in search and rescue. Many people train their dogs to be watch dogs or guard dogs.
Tests for Service Dogs
A dog has to pass certain tests to become a service dog. Service dogs are trained for years, and not all of them are good enough. Those that don't succeed are adopted and become pets.
Other Roles for Service Dogs
Service dogs help other people with disabilities, such as by alerting deaf people to sounds or pulling people's wheelchairs. They can bring objects to people, press buttons, and more.
Dogs can often notice if a person is going to have a seizure before they do and alert them. They can also notice high or very low blood sugar and alert the person so they can test it. They can even detect allergens by smell.
There are also psychiatric service dogs. They can help comfort people who have been through a traumatic event or help people on the autism spectrum.
What Are the Most Common Breeds of Service Dogs?
German Shepherds, Labrador Retrievers, and Labrador Retrievers are some of the most common service dog breeds. Their intelligence, obedience, and kindness make them suitable for a variety of roles. Golden Retrievers are also friendly and intelligent enough to be service dogs.
Surprisingly, many Poodles are service dogs, because their excellent sense of smell helps them detect allergens. Bernie Mountain dogs use their strength to pull wheelchairs and in other ways help people with physical challenges. Great Danes are one of the more common psychiatric care dogs.
Key Takeaways
Petco is a good place to buy service dog vests.
You can either buy them in-store or order them online.
Service dog vests identify that the dog is not a pet.
The color of a vest doesn't necessarily mean anything.
Reflective vests can increase visibility for the sake of safety.